London January 2007
Apologies for the rather basic pages - I don't currently have access to a Windows PC, which means no Photo Studio. Hopefully normal service will be resumed at some point!

Thames
Tuesday 9th January
Pictures taken on my walk into work, along by the Thames.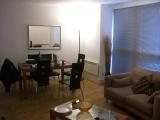 Flat
Saturday 13th January
A few pictures of the rather nice temporary flat I was put up in for the first week of my new job, as well as a little bit of the surrounding area (near St. Paul's cathedral).