New Year Party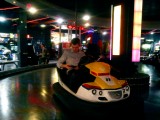 Thursday 21st January 2010

My company's second Christmas party, which we decided to postpone until after New Year. This time held at Namco Station, a kind of games centre / amusement arcade near Waterloo.

London January 2010
21:43:26 A colleague of mine enjoying shooting things.
21:43:32
21:53:47 Dodgems!

21:53:54
21:53:59
21:56:05 Kyle on a dodgem waiting to go.

21:56:11 Here he's being pointed at by the guy in charge of the dodgems - probably for using a mobile phone whilst driving.
22:33:27 That air hockey game.
22:45:18 I don't think Andrew and Kyle actually played this dancing game thing, they just stood here for a bit.

22:50:55 Pool.
22:51:01
23:39:25 More dodgems.

23:57:31 The Houses of Parliament.