Edinburgh and Islay

Saturday 1st - Saturday 8th September 2007

A week long holiday in Scotland, starting off with three nights in Edinburgh, then three nights on Islay to visit some of my favourite distilleries.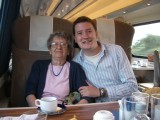 London to Edinburgh
Saturday 1st September 2007
Traveling up to Edinburgh, and then our first night at the Whisky Society in Leith.



North Berwick, Glenkinchie and Fireworks
Sunday 2nd September 2007
A day out with Chie, Vera and Lucy in and around Edinburgh - starting off with a trip over to North Berwick, then a quick visit to Glenkinchie Distillery, before heading back to Edinburgh for dinner and fireworks!



Overground, Underground and The Fry-Up
Monday 3rd September 2007
Spent the daytime in the city centre, starting with a general wander around, and then went on a tour of some underground passageways towards the end of the afternoon. In the evening went back to the flat for dinner, and had a bit of a fry-up which was suprisingly fun.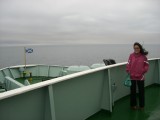 Edibnurgh to Islay
Tuesday 4th September 2007
Today we picked up a hire car in Edinburgh, and drove from there to Kennacraig, where we caught the ferry to Islay.



The Southern Distilleries
Wednesday 5th September 2007
We spent most of today visiting the distilleries on the South coast of Islay, starting with a brief glimpse at the now closed Port Ellen, followed by a tour around Laphroaig, then lunch at Ardbeg, and in the afternoon a tour of Lagavulin. In the evening we went for a drive around Loch Indaal, had a brief glimpse of Bowmore and Bruichladdic distilleries, and rounding off the day with dinner at the Port Charlotte Hotel.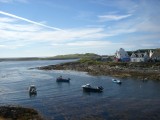 Loch Finlaggan, Kilchoman and Portnahaven
Thursday 6th September 2007
A great mixed bag sort of a day, with no particular agenda to start with, but where we ended up packing rather a lot in. Started off with a tour of the seat of the Lord of the Isles at Loch Finlaggan, and went from there, by way of the Islay brewery and Loch Gorm, to go on a tour of the new Kilchoman distillery. We then ventured to the Western tip of the Island - Portnahaven, a really charming little fishing village. Rounded off the day with a surprisingly good curry in Bowmore, where we were also treated to a rather nice sunset over Loch Indaal.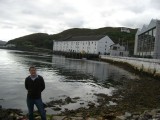 The Northern Distilleries and Back to the Mainland
Friday 7th September 2007
A tour around Caol Ila and a quick visit to Bunnahabhain in the morning, before getting back on the ferry and returning to the mainland in the afternoon. Spent the evening in Inverary on Loch Fyne.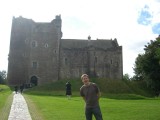 On The Way Back
Saturday 8th September 2007
Today we drove from Inverary down to Edinburgh, and then from there got the train back to London. We went a different route from the West coast to Edinburgh this time, taking us by way of Stirling, and, to my delight, Doune Castle - as featured in Monty Python and the Holy Grail.