Paris December 2008

Saturday 6th - Monday 8th December 2008

A weekend in Paris to celebrate our second wedding anniversary.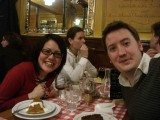 Saturday
Saturday 6th December 2008
First day in Paris, arrived by Eurostar around lunchtime. Met up with Benoit for dinner in the evening.



Sunday
Sunday 7th December 2008
Morning at the Bastille market, an afternoon stroll along the Champs Elysees, but undoubtedly the highlight of the day was our stay at the rather superb Hotel Raphael.



Monday
Monday 8th December 2008
A quick look at the view from the rooftop terrace at the Hotel Raphael, then a boat trip on the Seine, lunch at the Au General Lafayette, another boat trip, and then back to Gare du Nord to get the train back to London.