Baugigi, Vaso di Caccole e Stranguglione
Posted on 2006/02/06 09:13:32 (February 2006).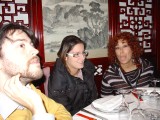 [3 February 2006]

This was the last day of my Florentine period due to the surgery that I had to do on my right knee.
A grand total of 62 days spent in the place where I'd like to be, most of them were rather nasty because the recovery from the operation was not a walk in the Park, but I want to force myself to remember the nice points, all the nights out with my friends, the new year party, the Christmas family reunions, RPGs, nights spent playing Playstation and so on...

The last day was very full for me, last rehab session, packing up the car, saying goodbye to all the relatives and organizing the last dinner with as many people as possible.

Finally I managed to gather a bunch of people, namely: Francesco, Elisa, Stefano, Rita (in the picture above showing her tongue!), Federico, Simone, Gianfranco and myself.

We set up to go to the "Luxurious Chinese Restaurant", as I call it, basically an above standard chinese restaurant, where you can eat a variety of food that is a bit different from the usual Cino-Italian version that is so popular over here.

The restaurant is furbished in a very Chinese way, red lacquered walls alive with several figures (dragons, lotus flowers, chinese ideograms), fake jade vases and chinese pictures scattered all over the place.
We managed to scrounge a table for 8, as we didn't book at all, and the dinner started. Rivers of Xintao Beer started flowing together with a very good selections of starters, meat, tofu dishes and so all. The dinner was good, all in all.

What was absolutely great is, yet again the people.

Apart from disrupting the dinner of everyone else in the place (we have been quite loud at times) we started spouting the usual hideous amount of bullshite, laughing most of the time (we have self-appointed our group with the name of : "The forge of bullshit").
Among the things that is worth remembering are the three words that make the title, I ll try to give a brief explanation:

Baugigi
This is not a Florentine word, it comes from another Tuscan city, Livorno. To make long things short, it means ASS. I dug this word from somewhere into my brain and among great fits of laughter we decided to have a round of drinks to the "baugigi".

Vaso di Caccole
This time it was Rita who came out with this other pearl. I think that we were having a massive go at the furniture of the restaurant, when her eyes fell on the fake jade vase that was encrusted into the wall.
Literally translated Vaso di Caccole means "Boogers Vase".
I didn't get a picture at the vase, but to give a brief description you should try to imagine a light green vase, around 1,5mts tall, with two small arms from which there are a lot of fake jade rings and strings dangling down.
Yes it looked like some very patient chinese took all the nasal excrements that he could get his hands on and created thin nice work of art...
We could not avoid drinking to the vase too... (in the meantime 10 people already left in disgust...)

Stranguglione
Another typical Tuscan word, it has several meanings, but we can restrict the field to a couple only.
The first one is basically a very strong and unexpected attack of diarrhea, with all the nasty consequences that usually are linked to these events.
The other one, and this is the case, is a sudden attack of hiccup or laughter that strikes when someone is either drinking or eating.
Federico suffered a very strong STRANGUGLIONE when drinking beer, you can imagine the scene of this poor guy producing masses of white foam from the nose and mouth in response to a punch-line said by Simone a second earlier...
The Stranguglione was added on the list of things that we had to drink to.

A great night that we finished off at Stefano's place playing card games and generally having a great time.

So that was it. 2 months at home, probably the best time that I have had in the last 2/3 years.
I say that with sadness, because at the time of me writing this piece I am back home in Varese, about to start the week that'll take me back to work in a tragicomic environment as my colleagues have depicted the new company setting.

On the other side I have to report the words of wisdom of my father, as usually fathers do, he managed to bring me back on earth with a simple phrase:

"You know Lorenzo, you lived these 2 months as a student, but your life in no more like that."

I think that we were talking about the fact that I am unhappy up north, and he was spot on. Florence has a strong advantage over Varese, I only go there when I am on holiday. I guess that it would be different if I move back as I will have to work there and have a lot of problems that so far (in the last 5 years) I have never had.
On the other side the nice evenings are all linked to my friends, they work of course, so I guess that maybe during the week I would be busier and I would have to go to bed earlier, but during the weekend and some other nights I should be free to do other things...

My father helped me in looking at the situation in a less idyllic way, but I still think that going back will improve my life, so I am going to fight for it in the coming period, and if Lady Luck will help me (I have some credit with her from last year!) I hope that I can go back for good soon...





Comment 1
I, for my part, love *Vai a farti fottere !*, the effective *Mi rompi le palle*, the common *Testa di cazzo !* and the exquisite *Porca troia !*

Posted by Sheri at 2006/02/06 14:20:23.
Comment 2
Ah! They are quite common insults though, by saying one of the three above you can be sure to be understood only by Tuscan people (and not all of them to be honest)... :P

Posted by Lox at 2006/02/06 15:05:54.
Comment 3
*Vaso di caccole* is not really an insult, is it ?

Posted by Sheri at 2006/02/06 15:18:17.
Comment 4
Hear this one: *Face de cul de mammouth !* How would you translate it ? It had a certain ring about it. At least in French.

Posted by Sheri at 2006/02/06 15:20:30.
Comment 5
Mmmm it probably would translate into "Faccia di culo di Mammuth" but I have to say that it sounds awfully strange...

Posted by Lox at 2006/02/06 16:59:55.
Comment 6
I rest my case!

Posted by John at 2006/02/08 10:33:12.
Post a comment