Rob and Kate
Posted on 2006/04/12 13:44:21 (April 2006).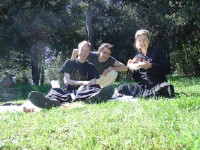 [7th April 2006]

Today I managed to sneak down to Florence and meet Rob and Kate.
They were in my hometown for their honeymoon, I couldn't agree better with their choice of location of course!!


Anyways we met near Stazione Centrale, and after much kisses, hugs and rejoicing we were already en route to Fiesole. Kate majored in Arts so she knew all the important bits and pieces of Florence, this meant that they spent all the time in the center, and wanted to see something outside the old city walls.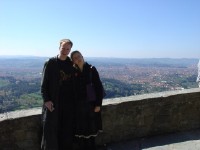 Fiesole in one of my favourite spots, commanding Florence from above, you get a marvellous view of the old and new city, the countryside atmosphere adds a lot to the experience too.
After a brief visit at the Fiesole abbey we decided to have yet more country action, so I arranged a visit to my family's propriety in the hills surrounding the city (see first picture).

My late grandfather was a famous doctor and he managed to buy quite a considerable plot of land (around 30 acres) where a nice villa and some vineyards plus olive trees are located. The glorious weather forced us to go there as it is really quite a view, a 100% tuscan countryside experience.

We stopped at the supermarket where we bought quite a lot of lunch, and we moved to the countryside. Once arrived we camped in the fields surrounding the villa and enjoyed a nice lunch and great sun for some time.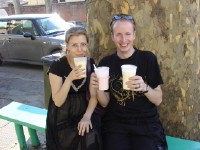 After food we had a brief stroll in the woods that are part of the propriety, I wish we had more time, but as we were approaching late afternoon we thought it would have been better to move back to Florence for a spot of wine in my favourite wine bar, not before stopping at the best milkshake maker in the city for a refreshing pint of milkshake (alas the country pub that we spotted was indeed closed, in case you are wondering Rob had the GAY-PINK one).

"Le Volpi e L'Uva" is the name of the wine bar, quite unknown to most people it is located beautifully close to Ponte Vecchio and Palazzo Pitti. They serve quite a remarkable selection of wines and rare hams, salami, cheese that they find in small farms in Tuscany.
We had a nice Chianti Classico for starters, and then moved to a Nebbiolo, Lacrima di Morro and finally a Sangiovese, Merlot, Cabernet made near Castagneto Carducci (near Siena) of which I don't remember the name but it was quite marvellous.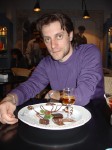 We set off around 7ish to stop at a decent pizzeria, where we had a quick dinner, and then moved to another "Old Lorenzo's Favourites", the chocolate retreat in Florence, called "The Hemingway". In this place you can certainly please all your choco-related needs. Their selection is huge, very refined and extremely well presented.

Me and Kate decided to go for a "Chocolate Tasting Course" of three different kind of chocolate served with a special wine or liquer. It was simply great! Rob didn't feel hungry (I think that I made him eat too much for lunch...sorry Rob), and went for a cocktail.

After the chocolate festa we walked back to their hotel and there we said goodbye.

It was a VERY LONG TIME since I didn't see Rob, now I can say that I missed him, it was really a grand day for me. I hope that we will see each other again soon, or at least not 8 years in the future! Kate was a great surprise, it was the first time I met her and she is marvellous, Rob is a lucky one there!

Though it seems that we did a lot, the day really flew by quite quickly, it's a shame that we had only 24 hours, but as I said there will be other times.


Comment 1
You are a lucky bast, Lox! Seems to be a wonderful family property! And the wine bar sounds also very tempting! Sort of place I would hang around a lot... Maybe I should remarry and enjoy the same treat...

Posted by Sheri at 2006/04/12 14:39:34.
Comment 2
The Tuscan sky and light is so typical. I remember it quite well. What the f... am I doing here, Lox! What the f... am I doing here!

Posted by Sheri at 2006/04/12 14:41:52.
Comment 3
Sheri: YOU TELL ME!!! I am in the same position, but with the aggravating point that I used to LIVE in Florence, I am Florentine and I choose to come here up north to catch rain and fog all year! :( Anyways we are trying to sell the countryside villa, if you know anyone who might be interested... :) AND, if you come to Florence with Christelle and kid(s) we can arrange to meet up!

Posted by Lox at 2006/04/12 15:16:55.
Comment 4
Sorry to hear that your family is selling the villa. Must be a blow for you.

Posted by Sheri at 2006/04/12 15:36:36.
Comment 5
Next time we win at the toto calcio, we'll come. Promise. Money is a bit tight these days.

Posted by Sheri at 2006/04/12 15:41:44.
Comment 6
Well the villa is nice but its comparable to a wormhole in terms of profits. It costs us a lot, mostly because it is a farm in all aspects, so it gets extremely taxed, we have to pay the farmer and we don't really produce anything... As for you coming here I am waiting! :)

Posted by Lox at 2006/04/12 15:56:54.
Comment 7
Sounds like you organised a fantastic day out for the happy couple - you really have a talent for that sort of thing!

I'm very envious of course - Tokyo seems rather dull and boring this morning!

Posted by John at 2006/04/13 12:33:29.
Comment 8
My God! Poor Rob & Kate! They were enjoying a marvellous honeymoon under the Tuscan sun, in total harmony and relax... when suddenly a man called Lorenzo came down from the North, ruining all the atmosphere...
At least I hope that you asked for permission before taking them around in this crazy "wine&food" tour... perhaps they had other plans for the day!
Anyway, I must say that you've always had really a good taste for this kind of things, particular wines, remarkable foods and so on, even if some other friends perhaps don't agree...
Only a remark... where the hell is Castagneto Carducci near SIENA?

Posted by Lank at 2006/04/13 07:34:40.
Comment 9
John: Well you are next in line you know that? When are you coming to Italy again then? We should organize a little trip (4/5 days) around different places, maybe Sicily even! COME ON!!!

Lannk: It was all planned of course, I think that after 9 days Florence can get quite tiresome, so I hope they liked it! As for Castagneto Carducci, Siena was the closest biggest entity that I could think of. I could have put "San Vincenzo" or "Follonica", but I hardly think that foreign viewers know thoose places... :P

Posted by Lox at 2006/04/13 10:52:14.
Comment 10
Hey Lorenzo! I would just like to say a huuuge thank you for being such a kind and welcoming host. We had a wonderful honeymoon and that last day was just a perfect end to the whole thing. My parents and my Aunt & Uncle are going to Florence later in the year, so I was able to give them some tips thanks to you showing us things we never would have seen as the average tourists (my Mother is dying to get to Hemingway now!). It was great to meet you and I hope we can return the favour in the not-so-distant future :)

Posted by Kate at 2006/04/18 15:04:03.
Comment 11
Ciao Kate!!

It was my pleasure to have you around and to show you a bit of Florence from an "insider" prospective...

I am glad to see that you like it!

I look forward to see you and Rob again, maybe in England maybe again in Italy!
By the way if your relatives and parents need anything, do not hesitate in asking me!!

Posted by Lox at 2006/04/19 13:29:35.