On the road again
Posted on 2006/05/14 24:15:42 (May 2006).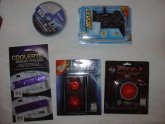 [14th May 2006]



(the pictue above are the nice pieces of hardware that I have bought yesterday)...

I guess that I should say "on the AIR" again, rather than road! At the time of me writing I am sitting before the gate 41 at Incheon airport, this time I sadly regret that I didn't managed to get a lounge (AHA! Retribution for me there!), also because I decided to get a rather terrible sandwitch at Subway.



I didn't want to get the nast McDonalds or Burgher King, so I opted for the "healty looking" alternative that Subway offered.

Well it was healty looking until they decided to add 3 different types of strange substances (I haven't quite managed to define them yet, I am afraid that my stomach will have the same troubles though)... Oh well, nothing to worry about I guess apart from the fact that I am fat, every time I come to Asia I gain nothing less than 4/5 kilograms in a very short time, and when I go back, in a matter of 1 weeks these kilos are lost.

This is not meant to be all that good, but it proves the point that when I travel even eating in good restaurants, I still get lower quality food than Italy. I also think that it has to do with the air and stress though...



It just occurred to me that in the next two weeks I will be moving a grand total of three times, four including this trip. Not bad.

Well, actually, quite bad for my back, today it started hurting again, I am sure that tonight I'll be getting some sleeping tablets to get a good night sleep that I didn't managed to even come close to last night...



If everything goes according to plan, I might be able to be in my room around 3ish this afternoon. This should leave me enough time to go to the electronics town in Taipei to look for the Netgear broadband Router that I am resolute to buy. I looked for it in Korea but they didn't have it.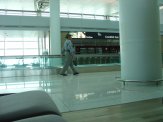 The traveller: Here is a picture of a typical korean man travelling. I think that the image talks by itself, on the top of the awful combination of clothes what really stands out, a bit of a sore in the eye, is the Croccodile Dundee style hat. Ok I have one too, but I use it only when I am out adventuring, either in the countryside or desert or similar places... I mean we are in the airport for God'sake



Post a comment