On the road again
Posted on 2006/05/14 24:17:48 (May 2006).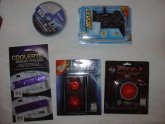 [14th May 2006]

(the pictue above are the nice pieces of hardware that I have bought yesterday)...

I guess that I should say "on the AIR" again, rather than road! At the time of me writing I am sitting before the gate 41 at Incheon airport, this time I sadly regret that I didn't managed to get a lounge (AHA! Retribution for me there!), also because I decided to get a rather terrible sandwitch at Subway.

I didn't want to get the nast McDonalds or Burgher King, so I opted for the "healty looking" alternative that Subway offered.

Well it was healty looking until they decided to add 3 different types of strange substances (I haven't quite managed to define them yet, I am afraid that my stomach will have the same troubles though)... Oh well, nothing to worry about I guess apart from the fact that I am fat, every time I come to Asia I gain nothing less than 4/5 kilograms in a very short time, and when I go back, in a matter of 1 weeks these kilos are lost.

This is not meant to be all that good, but it proves the point that when I travel even eating in good restaurants, I still get lower quality food than Italy. I also think that it has to do with the air and stress though...

It just occurred to me that in the next two weeks I will be moving a grand total of three times, four including this trip. Not bad.

Well, actually, quite bad for my back, today it started hurting again, I am sure that tonight I'll be getting some sleeping tablets to get a good night sleep that I didn't managed to even come close to last night...

If everything goes according to plan, I might be able to be in my room around 3ish this afternoon. This should leave me enough time to go to the electronics town in Taipei to look for the Netgear broadband Router that I am resolute to buy. I looked for it in Korea but they didn't have it.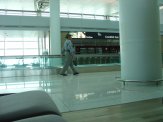 The traveller: Here is a picture of a typical korean man travelling. I think that the image talks by itself, on the top of the awful combination of clothes what really stands out, a bit of a sore in the eye, is the Croccodile Dundee style hat. Ok I have one too, but I use it only when I am out adventuring, either in the countryside or desert or similar places... I mean we are in the airport for God'sake!



Comment 1
That's interesting Lox - within a couple of hours of each other, we've both coincidentally wrote articles about how maybe Asian food is not all that great after all...

Whilst I can still enjoy it when I'm in the right mood, I've come to realise recently that I'm fundamentally a European through and through - give me bread and whisky over rice and sake any time!

Posted by John at 2006/05/14 14:16:15.
Comment 2
Lox - do you have a webcam there with you by any chance?

It just occurred to me - it may sound a bit odd at first, but now we're in more or less the same time zone we could go for a virtual drink together!

Posted by John at 2006/05/14 14:18:48.
Comment 3
And make virtual love too...

Posted by Dirty minded Sheri at 2006/05/14 14:36:22.
Comment 4
If I were you, Lox, I would be cautious. You can have nasty surprises with a webcam.... (Just imagine John stark naked or wearing a pair of stockings! Yurk!)

Posted by Reverent Sheri at 2006/05/14 14:42:37.
Comment 5
I bet he's hairy like a bear!

Posted by Sheri at 2006/05/14 14:43:30.
Comment 6
I think I regret my previous suggestion now!

Posted by John at 2006/05/14 14:49:47.
Comment 7
being Italian he probably goes in for that body waxing thing ?

Posted by Kev at 2006/05/14 16:43:09.
Comment 8
Oooeerr!! An X-rated post!!! Is this allowed?!?!? :)

I like the gadgets Lox - Ricoh are good disks. Not tried any memory coolers as yet, you will have to let us know if they work ok.

As for the "travelling hat"... I would seriously like to wear the 1930's light-weight suit and Trilby. I am a "Man out of his time" sometimes...! Other days I'm a jeans-and-tee-shirt type of chap!!

Posted by Nigel at 2006/05/14 18:15:58.
Comment 9
Off to work in Taipei, but I'll leave some answers:

John: Nope I left it at home.. Next time I'll take it with me, it's a good idea!

Sheri: I have already seen him NAKED MANY TIMES, as we are secret lovers you know (DOH! I spilled the beans...), and he's not hairy by the way.

Kev: Nope there too... No waxing for me, though I do admit it is quite popular in Italy for men to do...

Nigel: X rated all the way!! Will let you know how they work, my case (when closed) runs terribly hot and therefore I went in to buy some cooling...

Posted by Lox at 2006/05/15 01:34:39.