CAMPIONI DEL MONDO!
Posted on 2006/07/10 13:10:02 (July 2006).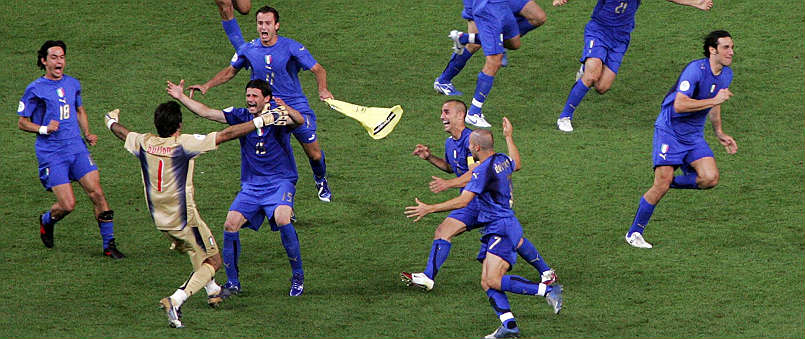 [9th July 2006]

I slept 3 hours during the night, before leaving the Tokyo Century Hyatt, the hotel that I have been using for the last five years.

Tonight it was the last night, in any scenario (self employed of with the Prato company) I will not come here again, save it for holidays and the likes.

Italy was playing today the final of the world championship, against France.

The flights didn't have any major delays, so I arrived at home just in time to unpack and go at Alessandro's place to watch the match, there were fifteen of us (kids included). At first I didn't want to go, mostly because all the matches that I have watched together with other people went badly (USA-ITALY) and I am a VERY scaramantic person...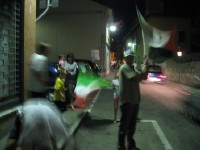 Still I decided not to believe at these pagan myths (YEAH, as if....), and went to see the match at Ale's place.

The game was quite bad for Italy, we did play quite well until the final it seemed, and although France got the lead on a penalty (a blatant dive, so much for the "Italian" game), we managed to equalize soon after.
Italy got a crossbard and a disallowed goal, France had a couple of dangerous shots and (this time) a penalty not awarded, but the 1-1 score hold until the penalties.

Here Treseguet, the guy who nailed Italy on a golden goal in Euro 2000, missed the penalty (payback?) and Italy won the title.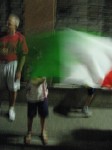 You cannot imagine what happened in Italy, people have been on the street partying until sunrise, we had our share of celebrations, shooting some of the fireworks that I had leftover from Nwe Year's Eve, and going around Vedano Olona screaming and waiving flags.

Interestingly, Vedano in five years has never looked so lively like tonight.

Then it was time to go to bed, the adrenaline rush was over and my body have been really put to test with the flight and subsequent match.
So it was immediate sleeping for me, one of the happiest evening in the latest years.

CAMPIONI DEL MONDO!

CAMPIONI DEL MONDO!



Comment 1
...

Posted by Crying Sheri at 2006/07/10 13:19:58.
Comment 2
Lox: Were you on the phone all night to your friends and family in Florence!? :)

Posted by Nigel at 2006/07/10 13:36:36.
Comment 3
Nigel: I had a couple of calls, nothing major though I wished I was there... Oh well maybe next time :) Winning is good anywhere!

Posted by Lox at 2006/07/10 14:35:22.
Post a comment