And did those feet in modern time....
Posted on 2006/07/26 24:40:18 (July 2006).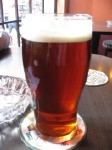 [25th July 2006]

William Blake and the rest of the British population will forgive me for having paraphrased the beginning of Jerusalem, poem (and later song), that I much admire and appreciate.

I used it to say that I went to England yesterday, that's all, but I liked the quote, and I hope you too... :)

Anyways, London was quite hot, as I have never seen it, very busy and bustling with people, as usual. I liked being back there even for just one day, I really miss England and the day was quite glorious making it all better.

I went there with Cristiano, the new salesman, to say goodbye to a couple of clients. I was amazed by the way the news were taken. All the clients were shocked and very sad at the news that I was leaving, once again I had proof that the job that I have done was quite good, especially on the personal relationship side.

Anyways we went around some shops and had a marvelous Steak and Ale pie with a pint of Bombardier Bitter (quite great), and then we came back home.

Luvely!



Comment 1
So it seems you enjoyed your trip to London. You weren't so happy about it las week end.
P.S. I'm sorry that you won't be with us next saturday, we will have to eat your cacciucco :-)

Posted by Federico at 2006/07/26 14:06:07.
Comment 2
Alas I cannot come to Follonica. It's a shite thing that one, but nothing that I can do because mostly is Marta who cannot make it on time... :( Next time I'll be there for sure!!

Posted by Lox at 2006/07/26 14:54:31.
Comment 3
Shame you couldn't meet up with anyone Lox! Though the Steak and Ale pie with a pint of Bombardiers must have been reason enough to come!! :))

Posted by Nigel at 2006/07/26 14:55:30.
Comment 4
Nigel: Indeed it was a shame, but at the same time it was great to have some proper English stuff to eat/drink. I really missed a decent pint of bitter! I am sure John misses it more than me, though there are good ales in Japan too..

Posted by Lox at 2006/07/26 17:24:29.
Comment 5
I'm sure you are losing sleep over not knowing the name of that store in Oxford Street (your London photos), so to put your mind at rest I can reliably inform you that it is Selfridges.

Posted by Mad Mumsie at 2006/08/09 09:15:12.