<! Main table>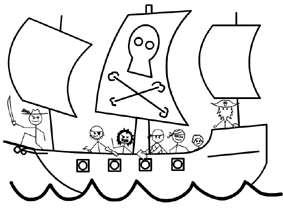 StickPirate
The Pirate Setting for the StickGuy RPG

By Rob Lang

Winner of the 1KM1KT 2004 Setting Contest



"OOO-AARRR me Harties! SPLICE the mainbrace! SCRUB the decks! Be underway or I'll be a-feastin' on yer gizzards! ARRR!"
A Typical Captain Stickbeard Motivational Speech



The high seas have never been so dangerous and dyed red by blood the of sailors. The Doom Stick is part of the problem, a crooked pirate ship run by the thoroughly demented Captain Stickbeard. For years, this evil old crone has sailed the world in search of treasure and islands to plunder. Now, he's old and withered and his crew are getting ichy for a change of management.


Setting Overview
You're a pirate. On a pirate ship. You spend your time fighting, drinking and wenching. Sometimes, you drink, fight and then wench. In this setting, you make your Stickpirate and then spend games attacking ships and islands for treasure, women and grog. With each action, you will get new items, clothes and shiney stuff. You'll also lose things too, legs, arms, eyeballs, sanity, cheese. But fear not, pirates are resourceful types and wooden replacements are in fashion.
Stickpirates
Shiver me timbers! Arrr! Splice the mainbrace and have his wallet! A pirate's life for me, etc etc. Being a pirate is great. More than great, it's brilliant. You get to do all sort of illegal stuff before cruising off round tropical islands. Brilliant. You can be any sort of pirate you like, below are some typical ones. You don't have to take any or all of the attributes, they're there to show you the sort of pirate it is!


StickPirate Types
Powder Monkey

This is yer typical pirate on the high seas. Grimey, dirty, nasty, unshaven and thoroughly mean. Not the sharpest tools in the box and as blunt as a hammer, these scurvey wretches are the mainstay of any pirate ship.
Special Ability: Fleetfooted. +1 to any running, jumping, swinging activity.
Positive Attributes: Violent, greedy, fearless...
Negative Attributes: Untrustworthy, ugly, poorly dressed, stupid...
Starting Equipment: Cutlass.
Buccaneer

This sort of pirate gets all the wenches. Smooth, silver tongued devils who do a lot of carousing and very little fighting. More interested in how they look than how much loot they can carry. The dandys of the sea.
Special Ability: +1 to any intimidation or carousing.
Positive Attributes: Attractive, trustworthy, Good looking, well spoken, intelligent...
Negative Attributes: Obsessed with women, vain, foolhardy, talks too much...
Starting Equipment: Cutlass, Hat.
Privateer

Originally paid by the King to secretly do their dirty work, the privateer is a cunning and devious pirate. They would steal from their own mothers if given the chance.
Special Ability: +1 to stealing or being cunning.
Positive Attributes: Will steal anything, survivor ...
Negative Attributes: Untrustworthy, coward...
Starting Equipment: Knife.

Cabin Boy

The Cabin Boy is always the last to get the blame for anything. Always thought of as too young and too innocent to be capable of the acts of an old sea dog. However, the Cabin Boy has the run of the ship and is courageous.
Special Ability: +1 to fighting.
Positive Attributes: Innocent looking, too small to attract attention, young...
Negative Attributes: Naiive, foolhardy...
Starting Equipment: Knife.

Now Draw Your Stickpirate
You chosen one of the above or made up your own, now draw the ole sea dog! If you give yourself a patch or wooden limb, then you start with a disadvantage. Ask the GM nicely if you have have another ability to offset this problem. If she says no, ask nastily and prod her with a pencil until she says yes. Alternatively, you can just wait until you have something blown off and get it replaced with some stuff.


The Stickiebean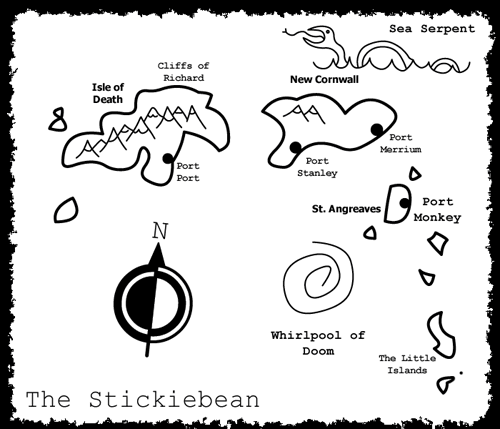 The Stickiebean is a group of islands where Stickbeard likes to sail. He likes sailing there because there are lots of rich people and fat, bloated cargo ships to board. Or rich cargo ships with fat, bloated people to board. There's also a load of Navy types out there. The Stickiebean is a hot paradise, which Stickbeard likes particularly because of his arthritis. Above is an original map of the Stickiebean by that great pirate map maker "Flatulant" Fred Fowkes. All the places you need to know about are on there. We don't know what's off the side of the map so it's probably best to stay on it, lest you sail off the edge of the Stick.
The Doom Stick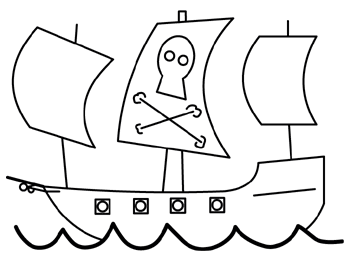 "Arrr, she be nearly the fastest vessel in these isles! Except the HMS Aichemess. And the HMS Cabbage. Oh, and the HMS Driftwood. Yes, yes, the HMS Brick aswell. Well, she be the fastest vessel called the Doom Stick in these here isles!"
The Quartermaster's honesty battles his his unshakable loyalty

The Doom Stick used to belong to the British Navy but they left it lying around and Stickbeard stole it. They should have nailed it to the port. It used to be called HMS Swiss-Cheese. The Doom stick has a crew of colourful characters, some of which are given here.

Captain Stickbeard (The Captain)

Born, they say, 100 years ago on the side of a volcano, Stickbeard is 90% evil and 10% wicked. He's lived for such a long time that he can't remember what nice is. He's also as mad as a spoon and he hates everybody. Including the crew. Greedy and nasty, Stickbeard is only still alive because he's just too belligerent to die.
Bonus Ability: Indestructable. The Captain can't actually die 'cos he's cursed. No-one knows this. He will die of old age but no-one knows when.
Positive Attribute: Nasty. Will do some horrible things.
Negative Attribute: Greedy. Will always go too far.


Mr Mister (Quartermaster)

Mr Mister is the ship's Quartermaster. Sort of a second in command. His job is to get whatever the Captain wants and to equally share the booty amongst the crew. Mister was not really born to be a pirate and is far too nice. His secret hobbies include knitting and flower arranging. Captain Stickbeard makes him torture people the crew have kidnapped and punish the crew. Mister hates it and would rather sit with his feet up with a good book and a cup of hot chocolate. Everyone likes Mr Mister, except the Captain.
Bonus Ability: Female intuition. He always knows when things are going bad before anyone else.
Positive Attribute: Nice. People will help him out because he helps people out.
Negative Attribute: Too Nice. Doesn't like hurting or torturing and is bad at it.


Pikey Parsons

Almost as old as the Captain, Pikey is the ship's surgeon and carpenter. When he's not hammering nails in the mast, he's hammering nails into the crew. Pikey would really like to be the Captain and would have been, so he says, had it not been for a clerical error. Pikey is thoroughly nasty and really enjoys seeing people in pain. Sometimes crew die on the ship purely because Pikey is laughing to much to do anything about it.
Bonus Ability: Does +2 when hurting people, not neccesarily in a fight.
Positive Attribute: Twisted. Is not phased by nastiness.
Negative Attribute: Obvious Liar. He tells fibs and they're so bad, everyone knows.

Other Personages
The British Navy

"Pip Pip, Tally Ho! Let's rid the world of this criminal Pirate Scum!".
The British Navy have lots of ships sailing the seas. The ships have lots of navy types on them who get very angry when they see the black flag of a Pirate ship. Some of the ships are big, some are small. Some a run by ruthless Captains and others by useless fools. Let's look at some of the more famous ships in the British Navy.


H.M.S. Aichemess and Captain Swiftwank

The pride of the British Navy, this Man-O-War has lots of guns and about 50 sailors on board. It's fast too. Very fast. If you get spotted by it, it's time to bugger off sharpish. It's commanded by the honorable and only slightly rabid Captain Swiftwank. Swiftwank is the typical upright, uptight British Naval Officer. He's always smartly dressed, always knows what to do and upholds the law whenever he can. What makes it worse is that he's actually really good with a sabre. He hates Stickbeard as much as Stickbeard hates everyone else.
Bonus Ability: Good with a sword +2 in fighting.
Positive Attribute: Courageous.
Negative Attribute: A bit simple minded.


Governor Le Spleen

The Governor of New Cornwall, one of the most important (and rich) islands in the Stickiebean. Le Spleen is bureaucrat and a socialiser. He's really good friends with Captain Swiftwank, the Captain of the Aichemess. Le Spleen has 4 daughters, each graced with either grace, charm, beauty or wit. None of them have more than one. They get into all sorts of trouble and are great for ransoming. Mrs Le Spleen is a force of nature. The least said about her, the better. We wouldn't want to put you off your lunch.
Bonus Ability: Marksman. He's rather good with a pistol. +1 to hit people.
Positive Attribute: Friendly.
Negative Attribute: Gluttonous.


Loot
When there's a fight, there's loot. Sometimes, you can get loot without the fighting but there normally is some sort of fisticuffs. It's what being a Pirate is all about.


Cutlass

Ideal Pirate weapon. Good for sticking people.
Effect: +2 to hurting people.
Dagger

For poor pirates or those who like a bit of sneaky stabby fun.
Effect: +1 to hurting people.
Axe

Pretend you're a viking pirate.
Effect: +1 to hurting people. Can be thrown.
Sabre

Only used by the British Naval types.
Effect: +2 to hurting people.
Effect: +3 to hurting people.
Pistol

Great for shooting people up! Pick them up off the dead bodies of British Naval officers.
Effect: +1 but at a distance.
Blunderbuss

Pirate artillery. Good for taking out lots and lots and lots of people all at once! Difficult to find. Need to hands to fire (unless your power is very high).
Effect: +3 but at a distance.
Nailing you back together
After you've been in a fight or 6, you'll need to see Pikey Parsons. He'll soon nail any lost limbs, eyes or other squishy bits. Just get a friend to drag you over to the carpenter and he'll soon sort you out with the followin'.

Wooden Leg / Arm

So, that fight cost you an arm and a leg, did it! Pikey'll sort you out with a special one.
Lost a Leg -1 to all running, jumping and so on. +1 to kicking people in the plums.
Lost an arm -1 to grabbing things and shooting stuff.
Hook

This can be handy when you've mislaid yer hand.
-1 to grabbing hold of things (look, beer, wenches)
Eyepatch

The old pirate favourite.
-1 to spotting things
Very Tight Bandanna

For keepin' brains in.
-1 to any thinking or brain rolls.