More Travelling
Posted on 2005/09/20 13:40:06 (September 2005).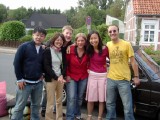 [Sunday 18th September]
"Oligosaccharides", said the Dutch biochemist standing before me, in a German service station near Osnabruck, as he unravelled a roll of liquorice. Sometimes I have moments where I think my life is just superbly bizarre - little things like this. Who could have predicted at the start of this year, that on September 18th, I would be standing on a bridge over the Autobahn, having the chemical composition of liquorice explained to me by a food scientist from the Netherlands.


We'd woke up late that day - the wedding had gone on until after 3, and we didn't get back to the appartment where we were staying until almost 5. We wandered from there over to Hauke's family's house, some time around 11, for a late breakfast. Many of the people who had been at the wedding were there, and it almost felt like the wedding was still going on.

Anyway, Yee had arranged for three of her academic colleagues to give us a lift back to Holland, which was absolutely great, as originally we'd planned to get a coach, and the timing would have been very tight indeed. So we set off some time around midday, and were dropped off at Wageningen station around 5. The journet was very pleasant, our Dutch biochemist travelling companions were extremely courteous, chatty and very interesting to talk to. I was particularly pleased to learn, from someone who studies the effects food has on your body in great detail, that the only real sensible way to eat was to adopt the "everything in moderation" approach - have a balanced and varied diet, without too much of any one thing. Eating healthy really doesn't have to be much more complicated than that.

From Wageningen we had a short train ride to get to Schippol airport, and we were there by about 7. We were a few hours early for our flight - so passed the time with a few drinks and a bite to eat. The flight itself was pretty uneventful (exactly the way I like it), and by about 10:30 UK time we had landed in East Midlands airport and were met there by my Mum.

It is quite weird for me to arrive in the country at East Midlands - especially as I had come, albeit by a somewhat long winded method, all the way from Japan. East Midlands airport is practically within walking distance of the village where I grew up, and where my Mum still lives. So within what seemed like just a few minutes of landing we were sitting in my Mum's house. I didn't fully realise I was back in England until the next day!

Comment 1
There you go. Done it again photographically at 18:31:27!! Splendid!

Posted by Nigel at 2005/09/20 23:25:13.
Comment 2
Thank you Nigel... I think...! I heard once that some showbiz type (can't remember the guy's name) would often use "You've done it again!!" as a very non-commital feedback when someone he knew had made a new play or something, and he actually thought it was very bad!

Posted by John at 2005/09/20 23:34:02.
Comment 3
Ha! Yes, that's quite a good idea. Another one is "I've never seen anything like it!" However I did mean it as a compliment. I think I'm just rue-ing (spelling!!) the fact I have a flashy camera but almost always fail to get the shot. My wife Joc, however, does it every time!! :/

Posted by Nigel at 2005/09/21 07:08:38.
Post a comment