Having a Generally Great Time On Islay
Posted on 2007/09/11 13:16:33 (September 2007).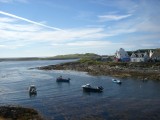 [Thursday 6th September]
I had deliberately left a gap in the busy schedule of visiting Islay's distilleries today, so we could have a day to just generally relax and do whatever we felt like.

Following a hearty breakfast, we headed out for the day. The only thing I knew about on Islay other than the distilleries was Loch Finlaggan - the seat of the Lord of the Isles. So, as this was pretty close to where we were staying, it was a good candidate for the first place to visit today. There's an island in the middle, which you can cross to via a series of rickety old bridges / walkways, over the more marshy parts of the loch. There wasn't a huge amount to see on the island itself - a couple of ruined buildings, and some interesting stone carvings, but the appeal for me was in the strange atmosphere of the place. There was something slightly magical about it, but in a way that it was hard to put your finger on.

The next major event of the day was a visit to Kilchoman distillery (OK, we did fit one distillery in at least then), although we took a very meandering route over there from Loch Finlaggan, taking in the Islay Woolen Mill, the Islay Brewery, one of the beaches on Loch Indaal, and a quick walk down to Loch Gorm on our way.

We arrived at Kilchoman with still a bit of time to spare before the afternoon tour started, and so took advantage of their very nice cafe for a late lunch.

I had enjoyed all of the distilleries visits we'd done so far, but something about Kilchoman was just particularly exciting for me. It is a new distillery - established 2005, and the first new distillery on Islay for over a century. It's on a much smaller scale than the others, all based on a farm, giving a bit of a glimpse of what distilling might have been like originally on Islay, before big industry got involved. Everything was in miniature - the whole operation fit into one relatively small building, from the malting floor, through the mash tun and wash backs, to the still room - with just one of each of the usual wash and spirit stills, and both quite endearingly petite. Apparently Kilchoman's output is about 1/10th of some of the other Islay distilleries, but the great thing is it is entirely produced on this one farm - even some of the barley is grown there - the other Islay distilleries import it from the mainland.

Kilchoman plans to release its first bottling, a five year old, in 2011. By the regulations of the whisky industry the stuff they have maturing in barrels today can't even be called whisky yet - it is just new spirit. They offer a taste of this on the tour (and also had miniatures available), and even this raw and wild spirit actually tasted really rather good. Our tour guide told us they have an offer where you can pre-order bottles from the first release in 2011, at a surprisingly reasonable price, and I am very tempted indeed. Roll on 2011!

We were at a bit of a loose end as to what to do after leaving Kilchoman, so decided to just carry on down the road which goes down the West side of Loch Indaal, right to one corner of the island, to see what was there. We weren't disappointed - at the end of the road is a really idyllic little fishing village called Portnahaven, and our visit there coincided with what was probably the only spell of really good weather of the entire holiday.

We spent a couple of hours in this lovely little place in something of a daydream - it was just so tranquil there. We took a walk around the harbour, then stopped off for a quick drink in the great (but tiny) pub there, and then took a walk a bit further along the coast to sit on a clifftop, and watch the waves crashing against the rocks. Utter bliss.

We finished off the day back in Bowmore - the island's biggest "town" - where for dinner we decided to cheat and go for a curry - yes, to my surprise there were actually two Indian restaurants on Islay, and the one in Bowmore was actually very good.

After dinner we were treated to a bit of a sunset over Loch Indaal - and I think I made up my mind then that my new life's ambition is to come and live on Islay.



Post a comment