What a Waste...
Posted on 2008/11/09 17:37:00 (November 2008).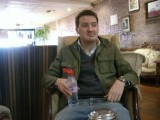 [Sunday 2nd November]
I'd arrived in New York yesterday, and given that I would be flying back on Friday, and spending all the week days stuck in the office, today was to have been my only day to do a bit of sightseeing.

Unfortunately that never really materialised. I'm not sure I really had that much last night, but I did end up feeling distinctly unwell today, and a combination of that plus a bit of jetlag, plus a general lack of any idea where I wanted to go, meant I ended up confining myself to the apartment for most of the daytime today.

I did venture out briefly in the morning - or early afternoon I should say - for a spot of breakfast with my colleague, but I really couldn't stomach it, so soon afterwards crawled back to my apartment and locked myself in for the remainder of the afternoon. I passed the time in a semi-concious haze, intermittently watching the Monty Python DVDs I had brought with me when I felt up to it.

The evening was something of an improvement. When I finally emerged from my afternoon's hibernation I discovered I was sharing my apartment with another person who works on my project, and is based in California. I hadn't met her before, but she seemed very nice - and as she was also at a loose end this evening we decided to go out and find dinner together. So along with my London based colleague from the previous evening's shenanigans the three of us went for an altogether more reserved evening out - a quiet dinner at a vegetarian restaurant called Counter. I was very pleased indeed that both of my non-vegetarian dining companions were keen to try this place without me even having suggested it.

The food was very good indeed. I started with some gnocchi, then followed with a very hearty (and frankly quite British in style) main course, a sort of lentil cake served with spinach, mashed potatoes, and a mushroom gravy. Very satisfying indeed. Even my non-vegetarian colleagues seemed to really enjoy their meals.

Oh, and I steered very clear of the booze, but was very intrigued by their $695 cocktail (no I haven't missed out a decimal point there) which contained Iridium.

So, I do feel a bit guilty about wasting the daytime like that, but then it was a business trip after all - I wasn't there to have fun, and with a busy week ahead of me staying in and getting plenty of rest was probably the right thing to do.



Post a comment