Back in London
Posted on 2010/01/13 06:41:20 (January 2010).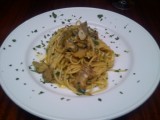 [Tuesday 12th January 2010]
Back at work today. Having gone to bed pretty early the previous evening, I predictably woke up around 4am this morning, and am not really sure if I managed to get back to sleep or not.

Fairly quiet day in the office. Had a very nice lunch - bavettini ai carciofi (a kind of pasta with artichokes) at Oliveto (see here for a picture).

In the evening met up with Al in Fitztrovia for a couple of drinks. Particularly liked the Newman Arms.



Comment 1
Newman Arms...
Mmm...

Man, I long for a real traditional British pub (with woodworks, dim lights and all). We only have ersatz pubs over here.

Posted by Sheri at 2010/01/14 13:41:38.