Chinatown and the Ear Inn
Posted on 2010/05/15 16:40:36 (May 2010).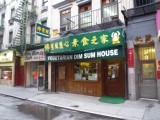 [Monday 3rd May 2010]
Dinner had been pretty disappointing the last two nights in New York. I thought this might have been down to the fact that I'd been going to places chosen by people from work, none of whom were vegetarians, so thought I might fare better if I went my own way this evening.

So I ventured into New York's Chinatown in the evening, having read some good reviews for a place called Vegetarian Dim Sum House, and Mondays seeming generally well suited to Chinese food.

Perhaps I ordered badly, but the meal was a massive disappointment. It was a huge menu and so I took a while over choosing. Being keen to get a good cross section so ordered two dishes - the vegetarian mock roast pork (which I think was a special) and some kind of vegetarian mock "chicken". The "pork" was OK - not great - but OK. I think it was mostly made of seitan (wheat gluten), the sauce it was coated in was fairly plainly flavoured but not unpleasant. It was served on a bed of Chinese green vegetables (somewhere between pak choi and sprouting broccoli) which were a bit undercooked and hadn't been drained properly either. The "chicken" was just awful - it was made of yam - in fairness they did mention this on the menu and I probably should have just avoided it accordingly - but to me this really doesn't suit Chinese food well at all. The texture was all wrong, and it was topped with a giant mound of cheap looking overcooked stir fried vegetables in a big unappetising brown slurry.

This was now the third awful meal I'd had in a row, and given that I didn't really want to be in New York in the first place I was, by this point, in a bit of a foul mood. I trudged grumpily through Chinatown, disinterestedly past Little Italy, and in an attempt to lift my spirits I decided to try and head for one more from the list of New York's oldest bars - the Ear Inn.

This too was a bit of a disappointment to be honest. On the plus side the barman was British, and reassuringly gruff with it, but that aside this was just nothing at all like traditional pub, and pretty much just like any other American bar - they had loud music playing, a TV in the corner showing some kind of sport, and most people seemed to be eating burgers. The tables had tablecloths for christ's sake! Amidst all that it was really hard to get any sense of this place dating back to the 1800s, I'm not even sure it had retained many of it's original features.

I got a taxi back to my hotel from there, more keen than ever for this week to just be over and done with, so I could get back to London.



Post a comment