South Downs
Posted on 2011/01/09 18:52:40 (January 2011).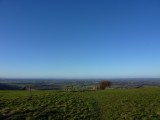 [Sunday 9th January 2011]
Following on from the moderate success of our venture out into the countryside on the bank holiday Monday at the start of this week I was keen to have another go, and this time do a bit more planning in advance, and get up a bit earlier. After browsing around possible destinations on the web for a bit I decided we should try a bit of the South Downs way, and I devised a route that would let us get off at one station (Fishersgate, to the West of Brighton) and end up at a different station (Hassocks, to the North of Brighton) - although in the end we did a slightly revised route which was a bit shorter, thanks to a very convenient bus.

So we got up bright and early - and were on a train heading out from Victoria not long after 9.

On arrival at Fishersgate, a little after 10:30, we headed North, following the Sussex border path, which separates East and West Sussex - this conveniently starts at the station so it was a fairly easy route. The path gradually climbs up and out of the urban sprawl of the Western suburbs of Brighton and Hove onto the downs. This section was meant to just be a means to an end to get onto the South Downs way, but in the end we were probably on this path for about half of the walk - it was after 12 by the time we joined the South Downs way. Although we were delayed somewhat by a dog that started following us, eventually causing us to have to give it's owner a call as there didn't seem to be anyone around for miles.

Once on the reassuringly chalky South Downs way we headed East, and along the way were treated to some nice views - particularly around the Fulking Escarpment (careful now) - and the weather was rather glorious for the time of year. Wonderful blue sky for pretty much the whole day.

Unsurprisingly I had planned the route so as to take in a pub for lunch, and for this purpose the Devil's Dyke Inn met our needs rather superbly. Whilst not the most attractive building in itself, it is in a spot with great views and the food was rather good - critically the vegetarian Sunday roast option came with roast potatoes, gravy and Yorkshire pudding. I was a happy man.

After lunch our thoughts turned to the remainder of the walk - it was still a fair distance to Hassocks. However, we spotted there was a bus stop by the pub, and in fact there would be a bus along in a few minutes - so an executive decision was taken, and we curtailed our walk at that point. It had been very nice up to that point, but I had a distinct inkling it would have started to lose its appeal had we gone on much further. So we got the bus back into Brighton, and from there jumped on a train back to London.



Comment 1
Ah! Looked excellent! Followed-up by such a splendid lunch - heaven! :-)

Posted by Nigel at 2011/01/11 22:01:54.
Post a comment