London to Paris and Le Train Bleu
Posted on 2011/03/18 23:04:29 (March 2011).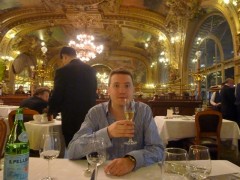 [Wednesday 9th March 2011]
Into the office in the morning, and left at lunchtime to head over to St. Pancras, from where we took the Eurostar to Paris.

I'd planned for us to break up our journey on the way down a bit, to make it a bit more leisurely, and also as I wanted to go to Le Train Bleu, the "station buffet" in the Gare de Lyon. So on arrival at the Gare du Nord we got on the Metro, headed down to the Gare de Lyon, and checked into our hotel for the night, conveniently just over the road from the station.

Le Train Bleu was the name given to the sleeper train which wealthy English people would take to escape the English winter and head down to the French Riviera, including Noel Coward and chums. It enjoyed a particular heyday in the 1920s and 30s.

The restaurant bearing the same name was originally built in 1900 (see here for more history) and was originally just called the Buffet de Gare de Lyon. It is incredibly elaborate and decorative, with murals depicting Mediterranean scenes (spot the Monty Python reference?). Fittingly where we were sat I could see one mural of Villefranche-sur-mer, and another of Monte Carlo - both places we'd be staying at on our trip.

I had been rather pleased to discover on their website they actually had a vegetarian option on the menu. As it actually turned out, it was pretty awful - an example of that classic French dish "small pile of unimaginative boiled vegetables with no attempt to add a sauce of any interesting flavour", which I've so often been doled out as a punishment in French restaurants. Chie didn't really enjoy her food much either, as it happens. Still, I had sort of half expected this, and despite France's culinary backwardness I still enjoyed the experience of dining in the magnificent opulent surroundings.

Headed back to our hotel after dinner for an early night, in preparation of our journey down to the Cote d'Azur tomorrow.



Post a comment