Eze
Posted on 2011/03/18 23:04:29 (March 2011).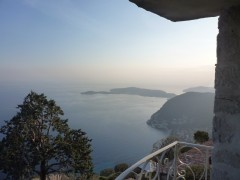 [Thursday 10th March 2011]
We were booked aboard the 09:42 TGV from the Gare de Lyon down to Nice. This meant we could get up at a sensible hour, have a quick breakfast at the hotel, and also pop to a nearby supermarket to buy provisions for our journey.

It was a very pleasant journey down to Nice, we were in first class, on the upper deck, with two facing "solo" seats. So we had bags of space, and were treated to very nice views of rural France as we headed South. Chie had brought some of the study materials for the course she's doing at the moment, and I had The Mystery of the Blue Train to read. Very relaxing indeed.

The train doesn't stop anywhere until Aix-en-Provence, which is almost on the South coast. From there it's on a slower line as it winds through Marseilles, Toulon and Cannes before finally arriving at Nice. There are sea views for a lot of the way on the final stretch, the sky was blue, and it was all rather idyllic.

We arrived in Nice around half past three, giving us 40 minutes to try and find the bus from there to Eze, which proved more of a challenge than we'd expected, as the Gare Routiere was closed, and the signs outside weren't particularly informative. Somehow we managed to find the bus in the end though and a short while later we were winding along the scenic coastal roads out of Nice, past Villefranche, to the village perché of Eze.

We'd been to Eze on our last trip, and I'd absolutely loved the windy little passageways and ancient stone houses. There's always something quite magical about a village that cars can't get inside. This time we were actually going to be staying a night, and I'd booked us a room at one of the two famous hotels there - the Chateau de la Chevre d'Or (yes, the Golden Goat Castle!)

We arrived at a little office at the base of the hill where we dropped off our bags (leaving some pour soul to lug them up all the steps for us) and had a lovely stroll through the hotel gardens, filled with animal scupltures, to get to reception. They've got it all rather well planned here - when you drop off your bags with the porter he must phone through to announce your arrival, and when we got to reception one of the hotel staff was waiting outside to say, before I said anything, "Welcome Mr. Hawkins". We then were ushered into the bar for a welcome cocktail (which was apparently nameless and very nice although I'm not sure it actually had any alcohol in it) and a slice of cake, which was rather nice.

We then went to check into our room, which felt more like a little cottage - the entrance was from the outside, and the room was split over two levels. A sort of entrance hall and the bathroom on the ground floor, and the bedroom on the first floor. Best of all was the little balcony, which had a fantastic view out over the Mediterranean, and over to the Cap-Ferrat (see the pictures!).

We then headed out for another stroll around the hotel gardens, having only seen less than half of them so far. It's a rather dramatic effect, the gardens sort of tumble down the side of the cliff, with the Mediterranean below you. It's a bit hard to describe exactly - so again, look at the pictures! We also fit in a wander round the village itself, which I still find rather spellbinding.

On our stroll around the hotel gardens we'd spotted both a heated pool and a jacuzzi and were keen to have a go, so on returning to our room we donned our swimming togs and dressing gowns and headed straight back out. We got a surprised look from a lady (who turned out to be a member of the hotel staff) for swimming in the pool - but it seemed perfectly fine to me, albeit that Chie was perhaps a bit less convinced. We didn't linger too long there, and headed instead for the jacuzzi, where the water was somewhat warmer. We sat there for quite a while, watching the sun set over the Mediterranean, which was rather magical.

For dinner we had toyed with the idea of eating at the hotel, and an earlier correspondence with the hotel had suggested they could make a vegetarian meal by special request, but they hadn't really given much in the way of details which had made me a bit apprehensive, and following last night's reminder of how incompatible French cuisine is with vegetarianism, I eventually decided we should give it a miss. Particularly given that the food here seemed to be incredibly expensive - I think dinner was supposed to be somewhere in the region of 200 Euros a head. Chie, never overly enthusiastic about eating at extremely expensive places, was happy to give it a miss too.

So we wandered around the village to see what else was open, knowing it wasn't really going to be much as it was a Thursday out of season. In the end we only really found two places open, one which was more of a bar (and we couldn't see anyone eating inside) and the other which was a pizza place. So we dined at Le Pinnochio, which wasn't actually that bad, despite every other diner being part of an American coach party (to whom we probably have to thank for the place being open at all I assume).

We returned to the hotel by way of the gardens again, and went for a drink at the bar, where the staff asked "ah, you're coming for an aperitif before dinner?" - they really didn't seem to have given up on the hope that we'd eat there. So we had the rather incongruous mix of a glass of Champagne and a cup of tea in the bar, before heading off to our room to bed.



Post a comment