Monaco to London
Posted on 2011/03/18 23:04:30 (March 2011).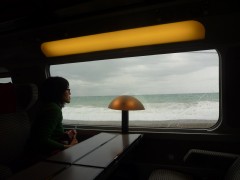 [Sunday 13th March 2011]
Alas today it was already time to head home - our short trip had flown by in no time.

Started the day with a hearty breakfast at the Hermitage, beneath a skylight designed by Gustav Eiffel. I was suprised (and a tad disappointed) by how ordinary the majority of the people at breakfast looked. A couple of men were even wearing T-shirts! How standards have fallen.

Checked out after breakfast, got a taxi to the station, and got the train from there to Nice. We had almost two hours in Nice to find something for lunch, but it being a Sunday (and a rather wet and miserable one at that) finding anywhere open to eat was not an easy task. We ended up eating at a Quick - the French burger chain - partly because it was more or less the only thing open, and partly because they had free wifi (which the French endearingly pronounce "wiffy"). I suspect not many people had made this same transition from breakfast at the Hermitage to lunch at Quick. Still, surprisingly I was just about able to locate some vegetarian sustenance here - some frites and a salad.

We got on the train about 1:15, a good 20 minutes before it was due to leave, and to begin with had the carriage all to ourselves. The journey to Paris was pleasant enough, although the weather along the Mediterranean had clearly deteriorated by this point, and the sections along the coast gave us views of an unexpectedly choppy looking sea.

Our train arrived at Paris Gare de Lyon at 20 past 7, giving us just under 2 hours before our Eurostar left from the Gare du Nord. We were, however, determined to not just get stuck at Gare du Nord where there's nothing really worth eating, and so set out on an ambitious plan to get across Paris by way of the Rue des Rosiers, a street famous for falafel. It turned out this was more or less in walking distance from the Gare de Lyon, and after queuing up for a bit and getting our dinner to take away from L'As du Fallafel, we continued our hurried dash across the French capital to a metro station from which we could get to Gare du Nord without changing.

By the time we got to Gare du Nord we were already at the 30 minute checkin window, so ended up eating our falafel partly in the departure lounge, partly on the train. In light of that I'm not sure that we really tested these falafel in the most favourable of circumstances, but it was still a million times better than anything we could have bought in Gare du Nord.

The remainder of our journey from Paris back to London on the Eurostar was pretty quiet, we seemed to be - presumably just by coincidence - in amongst a group of Japanese people. It was 10:30 by the time our train arrived in London, by which time we were pretty knackered, and we were back home some time around 11.



Post a comment