First Fitting
Posted on 2011/06/26 10:00:46 (June 2011).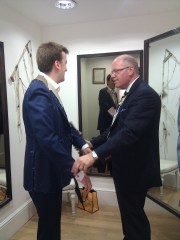 [Saturday 25th June 2011]
A lazy morning followed by a busy and rather self indulgent afternoon. The highlight being the first fitting of my suit. So, around lunchtime we left the flat and headed over to Savile Row for my 2:30 appointment at Norton and Sons, where I was met again by head cutter Stephen Allen who was, as before, very friendly and interesting to talk to.

I'd been a bit apprehensive in the run up to the first fitting, particularly about the cloth I'd chosen. It had been hard to imagine what the full suit would look like from the small cloth sample, and I was worrying that in the search for something a little out of the ordinary I might have gone a bit too far. So it was a big relief to have the first glimpse of the suit today and be reassured that what I'd chosen was, whilst being definitely in the realm of blue rather than navy, just about the right balance between restrained and interesting. Moreover it was great to have Chie with me this time as well who gave the cloth her approval too (although I suspect she couldn't really say anything else!). As you can see from the pictures, the suit is in a very early stage at present - there's no filling in the jacket yet, and all the stitching at this stage is temporary - after this fitting it will be completely taken apart and restitched, after adjustments have been made. However, even at this point I'm really pleased with it - the trousers are an excellent fit, and the jacket already has a sense of the sort of timeless classic cut I'd hope for from the Row. So I'm looking forward excitedly to the second fitting, which will hopefully be in about a month's time.

More indulgent shopping ensued after leaving Norton and Sons - Chie bought a pair of shoes from Vivienne Westwood - and then we decided lunch was a pressing matter, and headed to the tiny Goat Tavern in Mayfair. It being a Taylor Walker pub they had veggie fish and chips on the menu, which I find very hard to resist, and theirs was a particularly good execution thereof - down to the addition of what appeared to be aonori (a variant of the seaweed used in sushi) in the batter.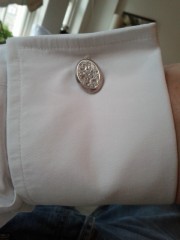 Following on from this, after a bit more window shopping, we decided to split up for a bit, as Chie wanted to look at bags, and I wanted to look at cufflinks. I slipped into Gray's antiques market just as they were closing, and on impulse bought a pair of Victorian silver cufflinks. They have Birmingham hallmarks, the date is 1888, but I haven't yet been able to identify the maker's mark. They're the oldest pair I've bought to date - having also acquired an Edwardian pair (from either 1906 or 1909) and an Art Deco pair (from 1935).

We met up again a bit later on for a wander round Selfridge's, wherein we had a glass of wine at one of their slightly disappointing bars and then started to think about heading home. A few minutes before arriving back at home we decided we were both too lazy to cook, so went to the little tapas place near where we live for a light dinner, which seemed to suit the warm weather rather well.



Comment 1
su-tu,dekiagari ga tanosimi desune! su-tu sugata no john san suteki desuyo!!

Posted by yoko at 2011/07/07 02:22:46.
Post a comment