Pizza, Perry, Pad Thai, Pocket Squares
Posted on 2011/09/21 04:16:37 (September 2011).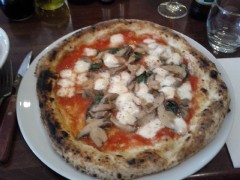 [Thursday 8th September 2011]
I took the unusual step today of heading into the centre of London at lunchtime, and decided to try out a relatively new pizza place called Sartori. It was reassuringly full of Italians, and the pizza wasn't bad.

In the evening, met up with Chie, and after a quick glass of perry we decided to try out a Thai restaurant nearby. It was OK I guess, but I think I was basically reminded I just don't like Thai food that much.

Spent the remainder of the evening back at the flat, learning various ways to fold a pocket square, and also learnt how to tie a half windsor knot, which was an absolute revelation, having always been a bit disappointed with the naff looking asymmetry of the standard four-in-hand knot.



Comment 1
How to tie a half windsor.
Ah yes ... one of those life skills that should be learned from your father.
Can and will do .... next time we meet.
Only problem is that Dad can only do this on his own neck ... and not in the mirror!

Posted by Revnick at 2011/09/22 07:58:04.
Post a comment