Kyoto and Osaka
Posted on 2011/09/24 15:05:34 (September 2011).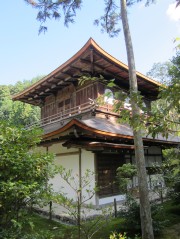 [Saturday 24th September 2011]
Having spent a lot of yesterday being quite irritable I thought it might be best to spend some time by myself today, and try and remind myself that, frustration with finding anything to eat aside, it was still a fascinating country to visit. I also thought it would be a good idea to make the most of the two week Japan Rail Pass we'd bought for the trip, which allows unlimited travel on all JR trains in Japan, including the shinkansen.

So I left Chie to her own devices, and got on a shinkansen bound for Kyoto. The one slight downside of the JR pass is that it doesn't let you use the absolute newest/fastest shinkansen trains (the Nozomi) so it usually means slightly more changes. I didn't have any particular agenda though, and it was interesting to see all the different types of shinkansen - I ended up using all four types (other than nozomi) that operate on this part of the route - the sakura, mizuho, hikari and kodama (the oldest and slowest).

Once in Kyoto I got on a frustratingly slow bus to Ginkakuji - the silver temple. I had been before (at least once, maybe twice) and remember it as being my friend Leon's favourite temple in Kyoto. The bus, rather ridiculously, took an hour from Kyoto station to Ginkakuji - I think I probably could have walked it in that time.

Given that today was the end of a week with lots of (well, two) national holidays in it, Ginkakuji was particularly busy today, and walking round the prescribed route was effectively like being permanently in a giant circular queue. Still, it was nice nonetheless. Whilst walking round, I heard a Japanese person mention "wabisabi" - the hard to define Japanese notion of spirituality or inner peace or something. If any one Japanese person gives you a translation for it, the next Japanese person you talk to will tell you it's wrong. The wikipedia article describes it as an aesthetic principle, but I'm sure that's debatable.

It occurred to me that wabisabi for me was sitting in Ye Old Mitre. When I put that to Chie and one of her friends later on in this trip they both screwed up their faces and said no. So, nuts to wabisabi. In the end I think it's just a Japanese version of Mornington Crescent.

Stopped off in Osaka on the way back from Kyoto, which, as predicted, wasn't very interesting.



Post a comment