Fukuoka and Kumamoto
Posted on 2011/09/29 04:10:11 (September 2011).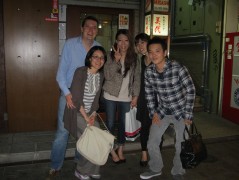 [Sunday 25th September 2011]
Took the shinkansen from Hiroshima to Fukuoka this morning, to kick off our four day trip to Kyushu, the most southwesterly of Japan's four main islands. It's a part of Japan I don't know very well, having only been once before, and then only to Fukuoka. Until this year the shinkansen only extended that far, but now you can get the shinkansen all the way down to Kagoshima in the South of Kyushu, a fact we took full advantage of on this trip.

We planned to have lunch in Fukuoka, to which end Chie had done a bit of research, and found a place called Mana Burgers, an entirely vegetarian burger place. I could barely contain my excitement at this prospect, but had a feeling it was somehow just to good to be true. Indeed my suspicion turned out to be correct - on arrival it was shuttered up, and when Chie tried to phone them there was a vague message saying they'd be closed for some time (presumably meaning days / weeks).

A little later on we met up with an old school friend of Chie's and her two children, on top of a department store, where there was a sort of mini matsuri thing set up for kids. It was a bit of a fleeting visit really - we were only with them for around an hour - but at least it meant our stop off in Fukuoka wasn't a complete waste of time.

From Fukuoka we got back on the shinkansen (and from here on it would be the newly opened section of the line, which Chie was quite excited about) and went down South as far as Kumamoto, where we'd be staying tonight. On arrival in Kumamoto we got on the little tram into the centre, where our hotel was. The hotel had a rather nice view of Kumamoto castle. After dropping off our bags we ventured out, I went to a kebab place I'd seen a poster for on the tram and got some falafel (something I didn't really expect to find in Japan, let alone Kyushu), and then we went for an early evening stroll around the castle walls.

In the evening we met up with Techan, a friend of Chie's from her university days. We started off the evening with a drink at his friend's Korean bar, where we were treated to some Korean otsumami along with our beer (korean nori, kimchi, and some other assorted pickles). We then headed on from there to an izakaya serving food from the region, which Techan said he always takes visitors to. We met his wife there, and also a friend of theirs called Yuko-chan, who was interested in coming to live in England. So I spent the evening acting as a sort of cultural ambassador for the UK.



Post a comment