Aso
Posted on 2011/09/29 04:10:13 (September 2011).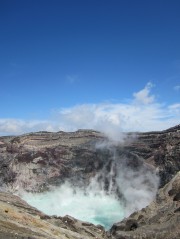 [Wednesday 28th September 2011]
After a final dip in the baths (and then a thorough shower in normal water to get rid of the smell of sulphur) and breakfast we left Jikoku Onsen and drove towards the centre of the Aso caldera, for what would be the highlight of the trip to Kyushu for me - a visit to the Aso crater.

It's actually very accessible by road, there's (as always in Japan) a big car park with souvenir shops near the top, and for the last section it's either a 30 minute walk, or there's a ropeway (or in fact, it turned out, you could pay a toll to drive your car very close to the top). We chose to walk, as the ropeway was closed for maintenance, and the weather was quite pleasant. We were treated to some very nice views of the surrounding landscape on the way up, which was actually surprisingly green and pleasant, until we got to the top where it all started to look a bit alien.

The actual crater is filled with blue tinged water (just like the onsen) and has steam billowing out to remind you it's a volcano, but the nearest magma is apparently something like 7km below the surface. Still, despite not actually being able to see any actual lava, it's still a pretty impressive site - given the Japanese habit for covering nature in tarmac and concrete it's quite spectacular to see something so raw and untamable. I hope the pictures do it justice.

Spent the afternoon after that gradually wending our way back to Kumamoto, where we were going to be dropping the car off, and stopped off at a few places en route to take in the view.

We were at Kumamoto station before 5, and so had a couple of hours to kill before our train, which was at 7. Kumamoto station doesn't really have a huge amount to offer in terms of places to eat and drink, but we somehow managed to pass the time.

The shinkansen back to Hiroshima from Kumamoto was about 2 hours, and mostly fairly quiet - the only noteworthy point being that I discovered they serve draught beer from the little trolley they have on the train. Quite impressive.

Got back to Chie's parent's flat in Hiroshima some time after 9:30, and spent the remainder of the evening uploading photos, etc.



Post a comment