Friday in Venice
Posted on 2012/06/20 23:01:52 (June 2012).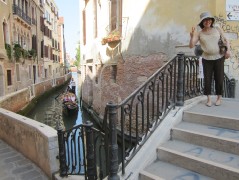 [Friday 15th June 2012]
We were awoken about 4am by the people in the next room having a conversation. They weren't shouting or even arguing, just having a conversation - the walls were just ridiculously thin. This would turn into a bit of a theme of this holiday, what with the bikers in last night's hotel in Turin attempting to break their door down at 2am, and the incessant buzzing of the air conditioning in the hotel for the next two nights, we weren't going to get a single quiet night's sleep.

Never mind, we did eventually get back to sleep, and awoke some time around 9, and headed down to breakfast. Breakfast at this hotel was a somewhat more elaborate affair than it had been at the previous place. Clearly someone in management had made an executive decision that Italian breakfasts were just a lost cause, and so opted for the standard international breakfast fare I've found in hotels all over the world. Including baked beans. So to my slight shame I pretty much had a full English breakfast, and reminded myself of Monty Python's travel agent sketch: "...and if you're not at your table spot on seven you miss the bowl of Campbell's Cream of Mushroom soup, the first item on the menu of International Cuisine".

After breakfast we went for a swim in the hotel's rooftop pool, which had great views over Venice. It was really hot today, already even at this time of the morning, so I was glad of the refreshing dip in the pool.

We didn't want to cram too much in on our first morning in Venice, so after checking out of the hotel we just took a leisurely vaporetto ride to San Giorgio Maggiore, which is on an extra little island off the end of the Giudecca. I'd wanted to see it as I'm a bit of a fan of Palladio, plus the island is a good vantage point from which to get a view of St. Mark's and the Doge's Palace across the water. Although having read some extracts from Ruskin's Stones of Venice on the way here I'd slightly gone off all things Palladian. Ruskin was certainly not a fan, describing Palladio's style as colourless, and rather cold and austere. I did sort of see his point, and hopefully the pictures agree - grand and imposing San Giorgio Maggiore may be, but it isn't really a building you could develop much affection for. On the plus side though Palladio did throw in a few Diocletian windows, which always wins extra points in my book.

We got the vaporetto back to the Giudecca, and considered going into Il Redentore, another Palladian church, but decided one was probably enough. So we took a stroll along the waterfront of the Giudecca, and made a return visit to Snack Bar La Palanca (our local!) for lunch. This was possibly the best meal of the whole trip - we just had a simple pasta dish each, but it was perfectly cooked and the staff were lovely. I think this was also the best spritz of the trip - not sure how it differed from the one last night, but it was somehow lighter and more refreshing.

I was almost reluctant to leave the Giudecca, as I had the sense that the friendly local feel that we'd experienced here probably wouldn't be present on the main island, which processes tourists on an industrial scale. Still, it would have been crazy to come to Venice and not see any of the famous sights, so we collected our luggage, prepared ourselves for the hordes, and got on a boat to the main island.

Our hotel for the next two nights was next to the station - we thought it would be convenient for when we left that we wouldn't have to try and cart our luggage across the city. The hotel was formerly an abbey, home to a commune of Discalced Carmalite Friars - and still had some original features accordingly, including a sort of pulpet in the lounge, and a pretty courtyard garden. Our room was kind of basic but pleasant enough, we were sort of up in the rafters.

After a short rest we decided to head out and walk to the Rialto Bridge. On the map this didn't look particularly straightforward, as there was a maze of windy little alleyways and passages to navigate, in addition to having to bear in mind all the canals and where you could cross them. In practice though this turned out to be a very well signposted route, and consequently there was a procession of other tourists following it. I found it interesting that there wasn't really a single obvious route to take, and at various points you could stray off the marked route and end up back on it again without seemingly having taken any longer. This was good as it let us get away from the tourists now and again, but also interesting in terms of thinking how they decided to mark the "official" route, which would obviously have a big impact on the revenues of the shops along that route. In fact in a couple of places there seemed to be unofficial signs competing with the more official looking ones, trying to persuade you to go down a different street.

I could happily have spent hours just wandering aimlessly around these little streets, they're so rich in detail and around every corner there's a surprise waiting - suddenly a little canal, or a little courtyard around a well, or a square with a little church and a campanile. I found the ornamentation fascinating, and hopefully you can get a bit of a sense of this from the pictures - I was constantly stopping to take a quick snap of a doorknob or a bit of stucco work. So many symbols, I assume all of them have meanings. The most common seemed to be the winged lion - the symbol of St. Mark adopted as the symbol of Venice - but there were also many others. Perhaps some of these were the coats of arms of Venice's powerful families.

We eventually arrived at the Rialto market and the bridge, and throngs of tourists. I didn't want to go too far today, we'd planned to get up early tomorrow morning to go to St. Mark's. So we just ventured a little way over the other side of the Rialto bridge as I wanted to see the Corte del Milion - the courtyard where Marco Polo lived. It was named after him in fact. After his travels to Asia he had a reputation for telling tall tales of the Far East - for example the Mongol horde which comprised of "millions of horses and millions of men". As a result his nickname became "Mr Millions" which lives on in this courtyard.

Chie was starting to get a bit tired at this point, so we got the vaporetto back to the hotel, along the Grand Canal, so that she could have a bit of a nap. I was a little too excitable to sleep though, so headed back out by myself. I went back along the Grand Canal on the vaporetto, this time standing outside so I could get a better view of the buildings as we went along. Most of these were formerly the residences of Venice's most powerful merchant families and are correspondingly rather grand and showy. I particularly liked the Ca d'Oro and the Fondaco dei Turchi.

I hopped off the Vaporetto at the Rialto Bridge, and strode purposefully over, trying to display the air of someone who knew where they were going, and therefore wasn't a tourist. I'm not sure anyone was convinced particularly. As the sun was now very much over the yard arm I decided now would be a good time to start exploring Venice's bacaro - the little wine bar places which are a peculiarity of Venice. I had read an article about them a while back when trying to find old wine bars in Florence, and it had rather captured my imagination. Moreover in London we have a sort of recreation of these in the form of a restaurant called Polpo.

I started with Cantina do Mori - partly because it closed the earliest. I think this may be the oldest in Venice, and certainly feels reassuringly ancient. There are copper pots hanging from the ceiling - a bit reminiscent of the things-hanging-from-the-ceiling fashion in English pubs. Apparently these pots were traditionally used for collecting water from Venice's communal wells.

Next I popped just round the corner to All' Arco, which was a bit more lively and had friendlier staff. The clientele were a mixture of locals and adventurous tourists, the staff seemed just as friendly and welcoming to either, and the two groups seemed surprisingly to co-exist quite harmoniously. I think this was probably my favourite bacaro of all the ones we tried, mainly for that reason.

At this point I temporarily paused my bacaro crawl and returned to the Rialto Bridge. Chie had awoken from her nap and come to meet me. I hadn't tried any of the cicchetti yet - the little tapas style nibbles served in bacaro - as I wanted to wait for Chie before eating anything. So once she'd joined me we actually went back to the first two bacaro again, and had something to eat in each one. I just about managed to muster "sono vegetariano, lei e incinta" which, with a bit of pointing, just about managed to convey our respective dietary requirements. In each place they then chose a couple of things for us. I think my favourite ciccheti of the evening was at All'Arco, where they had a little slice of bread (many of the ciccheti are served like this) topped with some cream cheese with truffles and porcini.

We also fit in two further bacaro - the next was called Do Spade where there was a very nice lady behind the counter who figured out the "incinta" part before I even finished the sentence. We had quite a large plateful here - they found some kind of caponata for me. Not sure if that's a typical ciccheti but it was nice nonetheless.

We wanted to get the traghetto (the gondola ferry that crosses the Grand Canal at several points) to the last bacaro, but were a bit too late, so ended up using the vaporetto to cross. The last one was a place called Alla Vedova (Ca d'Oro), where tiny glasses of wine seemed to be the norm rather than the spritzes I'd been enjoying at most of the other places. I don't think the chap behind the bar really understood our "vegetariano ... incinta" ordering strategy, and initially just looked a bit confused and then congratulated us, before eventually figuring out we were trying to get him to suggest something to eat. I think they overcharged us as well, so I didn't really like this place as much as the others.

Anyway, I enjoyed our little bacaro crawl, and it made a nice alternative to the usual sit down meal to eat a few little nibbles in a few different places.



Post a comment