Portland to Vancouver to London
Posted on 2012/07/17 12:06:40 (July 2012).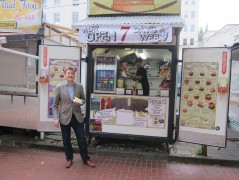 [Tuesday 10th July 2012]
Another sally out from the hotel for breakfast this morning, with a couple of colleagues (including Ben, who used to be based in London and had been a co-conspirator on a number of fun nights out during his time there). We decided to investigate Portlands food truck scene, apparently this accounts for about 30% of the eating out market there, and as it's something we don't really have in the UK I was keen to see what all the fuss was about.

This was probably the best meal of the trip - we went to a truck (more of a caravan really) called Brunch Box, which did greasy fried things in English muffins and bagels. They had a veggie sausage which I had in a muffin with cheddar, mushrooms, and the apparently obligatory omelette. Unhealthy but actually very tasty. We followed this up with a second visit to Stumptown for coffee.

More meetings back at the hotel in the morning, and then for lunch a larger group of us returned to the food trucks, although I didn't do as well on my second attempt, and had some unremarkable tacos and a fairly bad stodgy burrito.

I was going to miss the afternoon session today, as I needed to be back in London for Wednesday evening, which meant taking an afternoon flight from Portland to Vancouver, then an evening flight from there back to London.

I actually cut it a bit fine, and slightly worryingly when I arrived at Portland airport with just under an hour to go before my connecting flight, was greeted by a sign saying Air Canada checkin closes 60 minutes before departure. Luckily this turned out to be irrelevant, and the flight was delayed anyway so I had plenty of time to get through security, and even managed to get a bit of work done before I boarded.

It was a slightly scary propellor type plane from Portland to Vancouver, but I think my nervousness at this was distracted by the very fat and rather bad smelling woman who was sitting next to me, taking up some of my seat. I was bizarrely thankful for this - being annoyed for an hour is much better than being tense and anxious, it turns out.

I had quite a long wait in Vancouver, which I found to be a surprisingly pleasant airport. I particularly liked the BA lounge there, where the staff seemed genuinely friendly, and were very helpful in ensuring my bag got checked through from the earlier flight correctly. Also they had a good range of drinks which they let you just help yourself to, so I made a rather good Negroni, and then later on a Pimm's with Canada Dry

I flew back in Club World (BA's business class) rather than First, which I think was actually slightly better - the seats were much newer and cleaner, and on the upper deck it actually felt a bit more spacious. Plus the in flight entertainment was on demand. I was also really pleased to discover they had Campari on board (I vividly remember them not having it on my last Virgin Atlantic flight, and having to endure some derision from fellow passengers at the bar in Upper for having ordered it in the first place). So I got the cabin attendant to make me a spritz, which made a rather nice change from the usual samey selection of drinks you normally end up confined to on planes. The food wasn't quite as good as it had been in First, but I wasn't particularly hungry anyway.



Post a comment