Shakotis
Posted on 2012/09/06 22:08:14 (September 2012).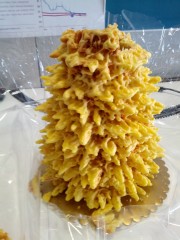 [Monday 3rd September 2012]
One of my colleagues brought some shakotis - Lithuanian baumkuchen - into the office. Consequently I persuaded Chie to come to my office for lunch so she could try a bit. It's a lot drier than Japanese (or should I say German?) baumkuchen - more sort of biscuity - but it was interesting to taste, and certainly impressive to look at.



Comment 1
kore nandesuka?
kondo ittera tabesasete
kudasai!!

Posted by yoko at 2012/09/09 03:12:47.