Due Date
Posted on 2012/09/06 22:13:36 (September 2012).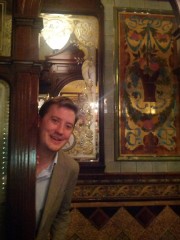 [Wednesday 5th September 2012]
So today was the due date for the baby - no signs of imminent arrival yet, so we thought we'd attempt some gentle encouragement with some spicy food.

I took burritos home for lunch, which we sat out in the gardens to eat - it was quite a nice day so that was very pleasant.

In the evening we went out for curry - I decided we should try a place called Punjab near Covent Garden, but it was somewhat disappointing. We both agreed the food tasted "old" - it lacked freshness and was pretty bland and lifeless. We should have just gone back to Gaylord, which has been my favourite Indian discovery of recent months.

Chie didn't seem particularly tired or anything - she'd had quite a relaxing day - so afterwards we decided to round the evening off with a drink at the Princess Louise.



Comment 1
nakaniwa deno ranti otenki
yokute yokattane!

john san chie wo yorosiku
onegai simasu.


Posted by yoko at 2012/09/09 03:14:59.