Going into Labour
Posted on 2012/09/11 17:11:26 (September 2012).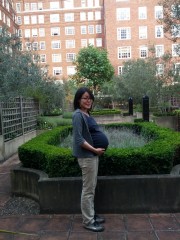 [Sunday 9th September 2012]
Chie went into labour today. Her contractions started about 5:30am, from which point we were both awake thinking we might have to rush off to the hospital any minute now. Of course the reality is that this early stage takes hours - it was 6:30pm when we eventually decided to call the hospital. In the meantime we tried to relax, set her up with the Tens machine (which to my surprise she kept on right up until about an hour before the birth) and went for a few walks to try and encourage things along - I don't think we've ever had such a comprehensive stroll before.

We got a taxi to the hospital around 8pm after calling the hospital a second time. They seemed unconvinced that we were ready to come in, because Chie was able to still speak through the contractions. Whilst this may be a good rule of thumb for the general case in England, it doesn't really work for superhuman Japanese women like Chie, who have a higher pain threshold than us wimpy Westerners.

On arrival we went into triage and I expected (if I'm honest, hoped, to some extent) we'd be turned around and told to come back in the morning, but actually after an imposing midwife called Regina had examined Chie, she decided the baby was on its way. It was interesting to see her bedside manner change - before the examination when she suspected we were just wasting her time, she was a bit frosty. After the examination she was suddenly rather sweet and caring.

We were on the triage ward for probably around an hour or so before being transferred to a labour ward. I was really pleased that we were able to get one of the birthing centres - and better still the one we'd seen on the hospital tour with all the best equipment - including a complicated (and apparently incredibly expensive) birthing chair thing, as well as a pool. We had our own private bathroom and shower too, which was all very comforting.

Our first pair of midwives were called Sarah and Judith - Sarah was a student midwife but had apparently done 17 births now so Judith put her in charge. She seemed pretty sure of what she was doing and they were both really sweet throughout their time with us. They really made an effort to pronounce Chie's name correctly, and kept saying it every time they spoke to her. It's surprising how nice it is to hear your own name.

Chie had decided to try for a birth without an epidural, and to begin with just relied on the Tens machine. We're not even really sure it was helping, but it seemed to have a psychological affect, as it gave her something to do every time a contraction started. We made full use of all the various bits and pieces of apparatus in the room - including that very expensive chair, and Chie worked through her contractions in lots of different positions - standing, sitting, crouching, on all fours. I was so impressed by the way she just got on with it, despite obviously being in a lot of pain.

Things had been going really well for the first few hours, but as we got into the small hours of the morning exhaustion just took over - I suggested she start using the gas and air, which helped a bit (again perhaps more psychologically than anything else) but eventually she couldn't really stand or sit any more and so some time in the middle of the night the midwives suggested a dose of pethedine, which would give her a bit of a break from the pain, and a chance to sleep intermittently to regain our strength. This was one of the most difficult points of the labour for me - in our NCT antenatal classes they'd painted quite a negative picture of pethedine - although the NHS are very aware of the NCT anti-pethedine propaganda, and say their claims are not backed up by statistics.

It probably sounds a bit ridiculous, but making these kinds of crisis decisions is actually part of my job, although obviously the sorts of "crisis" we experience at work are far less important than this situation. So I tried to take the same approach - gathering as much information as I could, assessing the pros and cons, and then going on my engineering judgement. In hindsight I think we made the right decision, Chie went from being very distressed from the pain and exhaustion, to being able to manage the situation much better, and even get short bursts of sleep between contractions. As we obviously still had some way to go with the labour this was very much what was needed.

More on tomorrow's entry...



Post a comment