Baby
Posted on 2012/09/11 17:11:26 (September 2012).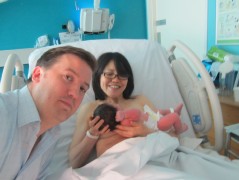 [Monday 10th September 2012]
We had been taken through the first 10 or 11 hours of labour in the hospital by our first pair of midwives - Sarah and Judith - and as dawn broke Chie was tired but had managed to regain a bit of strength for the final push. It was sad that the midwives who we'd been through so much with were finished their shifts at 8am, and would be handing over to another pair - they had been marvellous - but at the same time having a new team was actually quite good to help set a new pace for the final few hours.

Our second team of midwives - Marianne and Alison - seemed to have a slightly more hip and modern approach. Again one was a student but seemed very sure of what she was doing.

After they arrived I suggested Chie should have a go in the pool - as we had one, and I know being Japanese Chie loves lounging around in hot springs etc. I'm not sure it necessarily helped progress the labour at all, and there didn't seem to be any expectation that she'd actually give birth there - but I think it did help to relax her a bit, and the change of scenery was good for her too.

Maybe the pool did help though. Chie had a final examination after that - I think it was 9:30 - and they told her she was full dilated. This was a surprisingly emotional moment - we both got a bit teary - I'm not really sure if that was happiness or exhaustion or what, but after this we were then ready for the final push.

Not really sure why but for whatever reason we decided not to return to the pool, and instead Chie went back to using all the various bits and pieces of equipment she'd been using at the start - and in particular that very expensive birthing chair. It had a sort of rope hanging from a bar which she found helpful to hold on to - and to my surprise despite all the pain and exhaustion found it best to stand up.

After a couple more hours of pushing, some time after 11, the midwives told us they could see the head, and then the rest of it seemed to happen incredibly quickly. Eventually, and what felt like very suddenly, at 11:50am a whole load of stuff came out, in amongst it a very large purpley grey coloured baby.

The midwives caught her, gave her to Chie to hold immediately, and patted her face to help her start breathing. Chie then needed a bit of attention so I took the baby, and like the good NCT course attendee I am (albeit one who ignored all the things they say about pethadine) I unbuttoned my shirt for some skin to skin contact. Baby thanked me for this by pooing prolifically all over my shirt and trousers.

Welcome to the world, baby Erika.

I had a quick shower and changed clothes, then held baby again (this time wrapped in a towel - for my benefit) while the midwives attended to Chie. They did all the standard tests and measurements after that, she weighed in at 3.53kg and measured 53cm.

The postnatal ward was apparently full for the afternoon, which actually worked in our favour - it meant we were able to stay in the birthing centre - which we had all to ourselves, apart from the midwives occasionally popping in and out, until around 6pm. This was a rather lovely few hours as you can imagine. While we were waiting there they brought us tea and toast. When you're starving and exhausted just about anything tastes delicious.

Owing to the time we'd be arriving on the post natal ward we'd apparently miss the chance to order dinner, so some time after 5 I popped out to order some takeaway from the Carluccio's across the street. I could barely speak to the member of staff there I was so tired - or overwhelmed. I took back a couple of pasta dishes which I fed to Chie as she held the baby.

After that we transferred to the post-natal ward, where there were visiting hours, so rather sadly I had to leave at 10pm, but on the plus side it meant I could take some of our stuff back, and pick up the car seat we'd need to take the baby back in a taxi - plus have a decent sleep and a shower. I also felt reassured that Chie could get round the clock assistance from the on-duty midwives.



Comment 1
One happy granny here!

Posted by John's Mum at 2012/09/11 18:00:27.
Comment 2
Heartfelt congratulations to you both on the birth of your daughter, John and Chie!!!

Posted by Bryan at 2012/09/11 20:12:34.
Comment 3
OMEDETO !!!! Your baby is soooooooooo cute :)

Posted by Maiko at 2012/09/12 19:45:20.
Comment 4
YESSSS!!! Congratulations!!! Bravi to the both of you!! :D

Posted by Lox at 2012/09/13 15:06:10.
Comment 5
Many congratulations John!

Posted by Simon W at 2012/09/13 16:17:46.
Comment 6
Thanks everyone!

Posted by John at 2012/09/18 12:14:32.