Baby Day Two
Posted on 2012/09/11 17:11:27 (September 2012).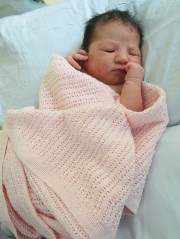 [Tuesday 11th September 2012]
I went back to the hospital for 10am, when visiting hours started on the post-natal ward. I was pleased to hear all was going well and we could be discharged this morning. We were able to leave just before 1pm - conveniently when morning visiting hours finish. Baby Erika was very good and didn't seem to mind being put in the car seat, and in fact stayed quiet all the way home.

We did a video call with Chie's parents using Skype when we got back, which was rather lovely - giving them their first chance to see the baby. She was a very good girl and slept quietly throughout the call.

After that I kept an eye on baby so that Chie could have a bit of an afternoon nap, having obviously not had such a great night's sleep the night before on the post-natal ward - with eight babies in earshot you can pretty much guarantee at least one of them is crying at any point in time.

So we had a few lovely peaceful hours after getting home, but unsurprisingly that was a bit too good to be true and towards the end of the afternoon baby's mood started to deteriorate, and it turned into quite a rough night - we think she perhaps had a bit of an upset stomach. Still, I suppose that is all par for the course.

I did at least make a point of cooking a proper meal, albeit a simple one, mindful of Charlie Brooker's observation that after the baby arrives all you'll have time to eat is biscuits. We also had a little glass of Champagne to celebrate - Kyle from work had very thoughtfully given us a bottle of Bollinger to mark the occasion.



Comment 1
ojiichan to isshoni miteruyo.
takusan no shasin arigatou!
Erika chan iiko ni neteirune.
hayaku dakko sitaiyo!

Posted by yoko at 2012/09/11 23:56:26.