Around the Gardens with Erika
Posted on 2012/09/18 10:50:34 (September 2012).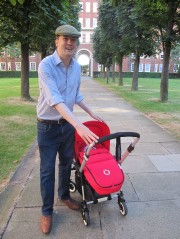 [Sunday 16th September 2012]
Having had a flurry of visitors the past two days it was nice to have a very restful day today, with nothing on the agenda other than looking after Erika.

Today was also the first day this week that I didn't go out on a little shopping mission, which I had done every other day so far that we'd been at home with the baby.

For lunch I was feeling quite cheffy, so I made white asparagus soup, using the fresh white asparagus I'd bought in Selfridges yesterday. I roughly followed this recipe, and as an added trick I used the peel from the asparagus to make the stock. I was rather pleased with the end result, and Chie liked it too. It went very well with the pane carasau (Sardinian flatbread) I'd bought the other day in Daylesford Organic.

Just after 4pm we decided to take Erika out for her first stroll in her new buggy, which I'd completed the assembly of after having got the replacement canopy yesterday. We decided not to be too ambitious, and just went for a walk around the gardens. This was actually also the first time Chie had left the flat since we got back from the hospital on Tuesday. I'm not sure Erika really knew what to make of the big outdoors - she looked a bit dazed by it all, but at least she didn't cry at any point so I'm going to consider it a success.

Later on that afternoon we decided to bathe her for the first time, as the umbilical clip had dropped off yesterday. This was somewhat less of a success. We tried using a sort of little seat that goes in our bath, and attempted to heat the room using the Dyson Hot. Our bathroom is pretty tiny, and so it was all a bit awkward. Erika cried pretty much constantly throughout, and Chie got a bit down over the whole episode. I decided for our second attempt I should get some different equipment - a separate baby bath which we could put on the floor of the lounge, so we could sit either side of it, and a thermometer so we could be sure we had the air and water temperature just right for her. So this was a bit of a low point in the day, but at least we've learned from it.

For dinner I made a full three courses - a salad followed by a proper Sunday roast, with a Quorn roast chicken style thing (which seems to have improved recently and was actually really tasty), roast potatoes, stuffing, peas and broad beans. I also put on a table cloth, laid the table properly with our best cutlery, and had a small glass of wine with the meal. Although the roast potatoes were a disappointment as always (I think our oven is just a dead loss for roast potatoes) overall the meal lifted our spirits. I'm convinced it's really important to try and find the time to eat properly like this when you have a baby.

For dessert (some time later on in the evening) we ate the Kiwano I had bought yesterday in Selfridges yesterday. I don't think I'll be rushing back for another - it was sort of a slimy cross between a grapefruit, a kiwi fruit and a water melon. Still, it was fun to try something new.



Comment 1
Chloe cried like nobody's business for the first bath - it took a few for it to get better (and for us to get more confident about it). Don't sweat it!

We also gave up using baby baths and just had Chloe in with one of us in the bath - so much easier.

Posted by Simon at 2012/09/18 13:18:44.
Comment 2
osoto ni dete mitanone!
kawaiine, bagi-.
Naoko san kara renraku ari
HP no shasin tanosimi ni siteimasu,to!

Posted by yoko at 2012/09/20 02:20:44.
Post a comment