Tuesday with Erika
Posted on 2012/09/19 11:44:59 (September 2012).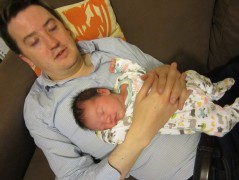 [Tuesday 18th September 2012]
Another day at home with baby Erika.

Not really much to report today actually. I didn't do my usual foray out to do shopping, instead in the evening I just popped round to drop off a car seat we'd borrowed from one of the couples on the NCT course - I was only out of the flat for 20 minutes or so.

Pasta for lunch (which as is often the case we didn't get to eat straight away when it was ready owing to a demanding baby, so it was past its best by the time we did eat it). In the evening Chie suggested ordering pizza, we tried a place called Firezza for the first time, but it was pretty disappointing - really dry and far too salty.

Erika is sort of settling into a routine now. She needs feeding really often - pretty much hourly - and in between she's either sleeping, crying, or seems sort of unsettled. Her digestive system is still getting used to doing its job, we think. There isn't really much time when she's awake and settled other than when she's feeding, which is making it hard to find a good time for bathing her. Hopefully as she gets a bit bigger her stomach capacity will improve, she'll be able to go a bit longer between feeds, and she might be a bit more settled.



Comment 1
mainiti kao ga kawatteru!?
john san otukaresama!
arigatou!!

Posted by yoko at 2012/09/20 02:24:25.