Erika's First Outing
Posted on 2012/09/21 07:35:42 (September 2012).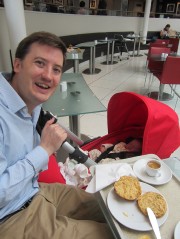 [Thursday 20th September 2012]
The health visitor came this morning for a, errr, health visit. I hadn't really expected how many visits we'd get after we brought Erika home - this is the fourth overall now, in 10 days. I'm not convinced that this many visits are really necessary, they do seem to be repeating themselves in what they're telling us a bit now.

In the afternoon Erika had her first proper outing - we took her on the bus to Peter Jones for a bit of shopping and a spot of lunch. We used the "Parents Room" in Peter Jones - how politically correct - it of course really means "Mothers Room" - we were in there a little while, I was the only Dad in there, and I got some funny looks from the other Mums. It was actually kind of smelly, too warm and claustrophobic in there but I felt quite pleased that we'd successfully done our first feed and nappy change routine outside the flat (obviously we did this at the hospital too but that doesn't really count). I've been a bit concerned that we've been developing a form of baby agoraphobia, we've only just got the hang of looking after baby when we're at home and everything is to hand, so we'd been a bit hesitant to leave the flat with her for anything more than a quick walk around the gardens. Hopefully today's outing was a step in the direction of being a bit more adventurous.

For dinner I made Quorn fillets in a sauce I vaguely imagine exists in the Mediterranean somewhere - a bit of red wine, tomatoes, olives, carrots, leaks and courgettes. I guess it ended up being a sort of ratatouille with some protein in.



Comment 1
Erikachan iiko ni siteitayoudesune!
hajimete no odekakene!

Posted by yoko at 2012/09/21 07:49:11.
Post a comment