Erika meets Naoko-san and Taechan
Posted on 2012/09/23 11:40:55 (September 2012).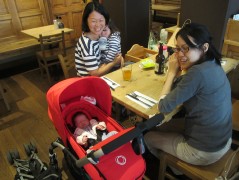 [Friday 21st September 2012]
Our second outing with Erika - we went out for lunch to Le Pain Quotidien so that Chie's friend Naoko-san and her daughter Taechan could meet the baby. Our forays out from the flat thus far have been somewhat hurried affairs - sandwiched between feeds and nappy changes in the hope that she'll be relaxed for the duration of the outing and won't start screaming in public.

For a bit of a treat I popped out to get fish and chips for dinner.

Later on that evening Erika was sick on me. Thanks Erika.



Comment 1
Erika chan wa hajimete otomodati!(oneechan) ni
attanokasira? otomodati to
iuka otana igai no hito?!


Posted by yoko at 2012/09/25 13:11:01.