Saturday with Erika
Posted on 2012/09/23 11:40:57 (September 2012).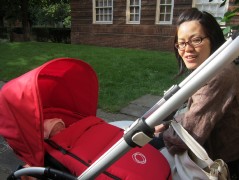 [Saturday 22nd September 2012]
Popped out to Sainsbury's in the afternoon. I found it's actually a bit difficult to do supermarket shopping with a baby and a buggy - I ended up using all my mental energy navigating the buggy around the aisles, avoiding other customers and their trollies, and keeping an eye on the baby - so didn't really pay much attention to actually buying anything.

The most dramatic event of the day was a nappy change later on in the afternoon. I won't go into details but suffice to say for once Erika wasn't the only one on the brink of tears, and this is now the third time I've needed a very swift change of clothes thanks to our little bundle of joy.

For dinner I made Japanese curry with a twist - I used coconut milk. We used less of the Japanese curry roux than we normally would, mindful that baby might not react well to spices (and Japanese curries are pretty mild in the first place) but the addition of coconut milk made it really rich and tasty.

I persuaded Chie to have a bath after dinner to help her relax a bit, during which I watched a 1985 TV version of a lesser known Noel Coward play called Mrs Capper's Birthday. It was a bit naff, frankly, but interesting to see early performances by Hugh Laurie and John Bird, and also interesting for a scene where the characters discuss Monty Python. Although I notice the dialogue about Monty Python wasn't in this 1968 version. I'd rather liked to think that Noel Coward, who died in 1973, might have watched Python (first aired in 1969) - and referenced it in his work, but maybe this addition to the play was posthumous.



Comment 1
Erika chan kao ga mainiti kawatte ikune!!

Posted by yoko at 2012/09/25 13:13:15.
Comment 2
Yes she looks a bit different in every photo!

Posted by John at 2012/09/30 11:56:07.