Tuesday
Posted on 2012/09/26 21:53:06 (September 2012).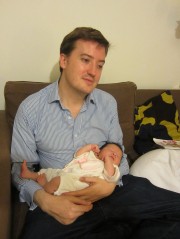 [Tuesday 25th September 2012]
To a large extent a repeat of the previous day - I went to work (but came back for lunch) and in the evening Erika had some bouts of considerably bad temper, in between which we attempt to eat the dinner I made. Tonight I made home made pesto (but left out the garlic, as apparently that's bad when breastfeeding) which we had with fresh linguine. Pesto definitely lacks something without the garlic, but the overall effect was still pretty pleasing.

We gave Erika a bath again this evening, and I think after our initial disastrous attempt (using the regular grown-up bath with a baby seat) we've found it so much easier using a separate little baby bath, on the floor of the lounge. Although I feel like it's only a matter of time until she kicks out the plug and water goes all over the carpet. Unlike the first attempt at bath time - which has resulted in fits of screaming - she actually seems to find it quite relaxing now.



Comment 1
We bathed F in a baby bath on the dining room table. By the time they're kicky, they'll be too big for the bath. I know someone who bathed his son in the kitchen sink.

R

Posted by Rob Lang at 2012/09/27 09:24:55.