Wednesday
Posted on 2012/09/26 21:53:06 (September 2012).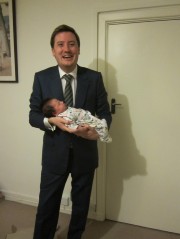 [Wednesday 26th September 2012]
I decided to work from home today, partly because I had peer assessments to write (which are always harder to do when the peers in question are sitting next to you and peering - if you'll pardon the pun - over your shoulder) but also to break the week up a bit, so Chie didn't have to spend a whole five days in a row at home by herself with the baby.

I actually had a pretty productive day - I spent the morning doing peer assessments, and the afternoon managing a release - something I'd been wanting to get out in the wild for a few weeks now - so that was rather satisfying.

Chie's friend Miyako came to visit in the afternoon, which I think Chie found quite uplifting. I had a lot of my family come to visit in the first week and I found introducing our baby to them was a really jubilant event, and helped it all to sink in. I think Chie is emboldened to invite more of her friends over now. Plus we're all really looking forward to Chie's Mum arriving - she'll be here from next Tuesday, and will be in the UK for three weeks.

Chie also popped out to the "baby clinic" in the afternoon, where she's encouraged to go every couple of weeks for health check ups. Erika already weighs 4kg - she has put on half a kilo since birth, which is pretty good going in 16 days. Whilst there she asked again about which foods might affect breastfeeding, as we think Erika has been having some kind of wind or stomach trouble. As we'd also heard elsewhere, the advice today was that actually anything you'd regularly eaten whilst pregnant would probably be fine. Chie seems to have gotten a bit fed up of having to be careful about what she eats, as there doesn't seem to be clear cause and effect between what we eat and when Erika gets upset. So tonight Chie said she wanted to eat curry - one of the things we'd been avoiding. So we popped out to Sainsbury's in the early evening to buy ingredients. Erika definitely seems to like being out in her buggy - she just falls asleep, at least on short trips. I made some of our usual favourites - sag aloo, mutter paneer, and some daal. I was pretty cautious with the spices, and also didn't use any onions or garlic - this actually made everything quicker to cook and saved a bit of effort as well. Fingers crossed Erika won't mind!

I'd ordered a new pair of vegetarian shoes (identical to the brogues I was so fond of, which are now pretty worn out). These arrived this afternoon, so in the evening I tried them on with my suit - which explains the picture - it seemed like a good opportunity for a picture with Erika. Given that, like any other baby, she has occasionally been prone to throwing up milk, we took this picture rather quickly, as you can probably imagine.



Comment 1
John san su-tu sugata suteki ! sutekina papa ni dakarete Erika chan mo
uresiine.

Posted by yoko at 2012/09/27 13:05:27.
Comment 2
Arigato Yoko-san! :)

Posted by John at 2012/09/30 11:54:34.
Post a comment