Tailor Made (Me Unhappy)
Posted on 2012/09/30 10:29:06 (September 2012).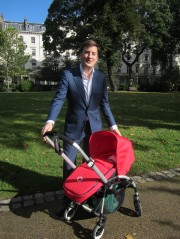 [Saturday 29th September 2012]
Woke up around 5am when Erika woke for a feed, after which she wouldn't go back to sleep. In order to let Chie get back to sleep I took Erika to the lounge and paced up and down for a while to try and get her to nod off - in the end she decided she would only sleep if I was holding her. As it happened the previous evening there had been a program on the TV about Victorian era servants, and having woken at dawn to attend to every need of the new head of the household, who didn't seem particularly concerned about me getting any sleep, I felt some sympathy for them.

Recently I've become quite irritated by the fact none of my trousers fit properly. With the exception of that one bespoke pair, they're all either too big, too small, too long, too short, too baggy or just not comfortable. So I thought I'd try going to a reasonably priced tailor (i.e. not Savile Row) to have some made. It seemed like a good idea to go in my favourite suit to give them an idea of the sort of thing I liked, but I later regretted this. They were very critical of it, said it wasn't well made (they used the word "terrible"), and implied I had been ripped off. I was rather upset by this, my suit being something I have a deep affection for, I've received lots of compliments on (including from people who don't know me and/or have no idea where it was from - so presumably weren't just saying it because they felt like they ought to) and I'd spent rather a lot of money on. This is pretty much the equivalent of telling a woman her wedding dress looks cheap and tacky. I couldn't get this out of my mind all day. Yes, I know I'm more than a bit vain, but having lived all my life with a lazy eye and crooked teeth (and to add to that in more recent years, a fat neck) and having never really felt like I had particularly great dress sense, I had loved the feeling of having at least one item of clothing that I'd hoped made people think - "well he may have a deformed face but that is a great suit".

Needless to say I won't be using this particular tailor again.

After that I met up wih Chie and Erika and we took her for a stroll around St. George's Square gardens - amazingly we'd never been in before, despite living very close by, having assumed it was one of those private garden squares only for the residents. Plus, I suppose, the fact that we have our own residents only gardens. Which are bigger. And have nicer flowers.

Later on in the afternoon we ventured out again with Erika to take her on her first visit to a pub. We deliberated somewhat on where the venue for this momentous occasion should be, but eventually settled on the Star Tavern in Belgravia because it was on the way to Waitrose, and had lots of space inside. By coincidence we filed in there behind another couple with a very young baby who appeared to be doing exactly the same thing. While we were there a member of staff came over and told us how cute she was - that's always really nice to hear.

Went around Waitrose after that, picked up some macarons round the corner from Pierre Hermes, then got a taxi home. Burgers for dinner.



Comment 1
I wouldn't give those tailors a second thought, John. From your pictures on the Maison, you always look a very dapper chap when togged out. I wish I could say the same about myself. Onwards and upwards!

Posted by Bryan at 2012/09/30 15:27:10.
Comment 2
Thanks Bryan! Very kind of you to say so.

Posted by John at 2012/09/30 17:59:45.
Post a comment