Anniversary
Posted on 2013/01/20 10:00:31 (January 2013).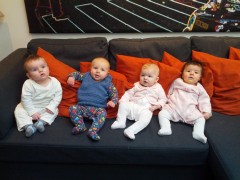 [Thursday 17th January 2013]
Chie and Erika met up with several of the Mums and babies from our NCT group at lunchtime, wherein they had this great photo opportunity of all four babies sitting on the sofa. I didn't take the picture (I wasn't there) but it seemed too good not to upload here.

Today is the anniversary of when Chie and I met for the very first time - thirteen years ago today! We considered going out, but it was a bit cold and we couldn't really think of anywhere in particular we wanted to go so we stayed in, and I made a lasagne.



Comment 1
13nen ni narunone!
Itumademo nakayoku ne!

4nin no akachan kawaii!
CM ni tukaesou?!


Posted by yoko at 2013/01/21 13:08:42.