Shirts, etc
Posted on 2013/06/16 22:19:56 (June 2013).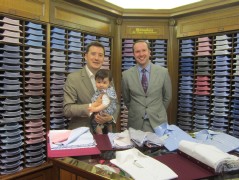 [Saturday 15th June 2013]
Had a wonderfully self indulgent morning today. We woke quite early (thanks to Erika) and were all washed, dressed and out of the flat well before 9. We decided to head to the Regency for breakfast to start off the day - which was excellent as always - and then from there walked in the direction of St. James's, via St. James's Park, where they were setting up for Trooping the Colour.

I'd decided I wanted to get some made to measure shirts from Turnbull and Asser, so we spent a delightful hour in there whilst I was measured up, trying on sample shirts, choosing the style of cuffs etc, and finally choosing the cloths for the two shirts I was going to have made. The member of staff I dealt with was extremely pleasant, and very knowledgeable, and the whole experience was just splendid. Better still while we were in there an elderly gentleman popped in wearing a top hat and tails, carrying a cane, and with spats over his shoes. He was someone from another era - and nobody in the shop batted an eyelid.

After that we did a bit of browsing around on Bond Street - very nearly bought a pair of raincoats in Daks - then Chie suggested we take a break and go for tea/coffee at Browns Hotel.

After a bit more browsing our thoughts turned to lunch, and we decided to go for dim sum at our old stalwart, Royal China, after which we headed home.

We popped out again briefly in the afternoon to go to the supermarket - and were caught in a torrential downpour - really funny weather today.

In the evening we'd been invited to Kyle and Hannah's down in Dulwich for a party to celebrate World Gin Day (yes, that exists!) which also doubled as a sort of birthday party for Kyle. We didn't stay too late as we had Erika with us, but I think my bartending skills were appreciated, and I furnished a few people with Negronis and Aperol Spritzes.



Post a comment