Dartmoor and Hotel Endsleigh
Posted on 2013/08/09 22:38:53 (August 2013).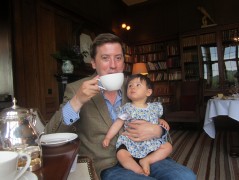 [Wednesday 7th August 2013]
Dad gave us a lift to the car hire place in Exeter this morning, where we picked up the car we'd be using for the last couple of days of our trip. We all drove together from there to the Warren House Inn on Dartmoor, where we had a pleasingly rustic lunch, before waving off Dad and Janie who headed back home.

From there, we drove across Dartmoor, stopping off before Tavistock to walk up Cox Tor. The weather had changed somewhat since we had lunch (or maybe this was just the West versus the East of the moor?) and was looking quite broody - which I thoroughly appreciated, as Dartmoor never looks quite right with blue skies and sunshine.

We'd originally thought we might stop off in Tavistock, but thoughts of catching afternoon tea at the hotel instead persuaded us to motor on through. We arrived at the Hotel Endsleigh - our home for the next two nights - at 5pm, and were indeed just in time for afternoon tea. This made for a lovely introduction to the hotel, as we sat on the chaise longue by the window in the library, and enjoyed some very nice tea, sandwiches, scones and cakes.

After that we went for the first of several wanders around the grounds. It really is an idyllic setting, the lawns sweeping down to the river Tamar, and looking across the valley to the woods on the other side of the river, which defines the border between Devon and Cornwall.

We fed Erika outside in the gardens, and set our minds to trying to get her to go to sleep in time for us to go and have a grown-up dinner, just the two of us. This would only be the second time we'd been "out" for dinner without Erika since she was born. The kitchen stopped serving at 9:30 apparently, so it was a bit of a race against time - we booked our table in the restaurant for 9, and she just fell asleep a couple of minutes beforehand.

They have a listening service in the hotel, using the hotel's phone system, and the receptionist would come and let us know if she heard any crying. I still went up and poked my head round the door a couple of times.

Not sure the food was actually that marvelous (my "raviolo" - singular of ravioli - was a bit rubbery and bland) but it seemed important that we had some time to ourselves for a change.



Post a comment