Shopping
Posted on 2013/08/25 07:52:34 (August 2013).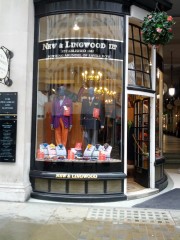 [Saturday 24th August 2013]
Partly with our upcoming trip to the Cote d'Azur in mind, and partly because I still want to get out of the sloppy habit of wearing jeans, I decided I should buy some new trousers today. I headed out by myself to make it a bit quicker, and headed to cheap and cheerful Charles Tyrwhitt on Jermyn Street, wherein I found a couple of pairs which seemed to fit reasonably well. I also popped into New and Lingwood while I was in that neck of the woods, and bought three shirts in their sale.

Met up with Chie and Erika after that, and went for lunch at Tibits. We then had a far less effective attempt at shopping for clothes for Chie, which took longer than I spent shopping, and ultimately resulted in her not buying anything.

Towards the end of the afternoon / early evening I popped out again with Erika, so Chie could have a bit of a rest. We walked to Waitrose and bought some fresh pasta for dinner. We all had the same thing for dinner. Well, we all had the same fresh pasta - I made a different pasta sauce for Erika which was more baby compatible.



Comment 1
naite iru shasin hajimete!
kouiu kao mo kawaii!?


Posted by yoko at 2013/08/28 05:49:27.