London to Menton
Posted on 2013/09/09 18:49:23 (September 2013).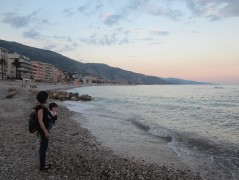 [Friday 30th August 2013]
There had been some debate over this trip between Chie and I, chiefly over the method of transport. I as always was somewhat determined to maintain my policy of not flying in Europe, and go by train. It's been 8 years now since I've flown within Europe, and yet have in that space of time averaged about two trips to the continent a year. Chie on the other hand argued that, now we have a baby, long train trips would be a lot more arduous than they had been before (and she was never entirely convinced it was a good idea even before that).

Eventually though Chie had caved in and let me have it my way, so today we embarked on Erika's first trip to the continent, by train.

In a sense this was Erika's first time to be abroad - being half Japanese her trips to Japan don't really count - and so it was quite an exciting moment to go through passport control, headed for a country she doesn't already have a passport issued by.

In order to keep the overall journey time down I'd barely allowed any time to hang around in Paris, so on arrival at Gare du Nord we got straight on the RER to Gare de Lyon. We did have a little bit of time to buy a few things for the journey there, so in additional to a rudimentary lunch (a baguette and some salad for me) we got Erika some French books to read to her on the train.

To me the time on the TGV seemed to pass quite quickly. The high speed part is only really up to Aix en Provence or perhaps Marseilles, and it always seems like we're at the South coast in hardly any time at all, but from then on it's at a much slower pace.

We arrived in Nice about 6:30, where we had to change to a different carriage, as we were on the idTGV portion of the train (it's a bit cheaper than the normal TGV carriages) but that section only goes as far as Nice.

We arrived in Menton at 7:15, and walked from the station to our hotel on the seafront, checked in, then headed out for a stroll along the beach before dinner. I know the same would technically be true had we flown, but I always have a sense of wonder at this point on a trip, in thinking that this morning we were in London, and this evening we're in the South of France. Somehow, perhaps because we've seen all the land between here and there, that sense of achievement (or whatever it is) is much greater by train.

There were quite a few restaurants along the seafront in Menton, which looked tempting in term of their atmosphere, but French restaurants are useless for me (there was also, even more uselessly, a Brazilian restaurant), and the Italian restaurants we saw looked kind of tacky. So we decided to go to "Loving Hut" - probably the only fully vegetarian restaurant on the entire Cote d'Azur, which just happened to be a couple of doors down from our hotel.

Clearly vegetarian cuisine is struggling to get a foothold still here in the South of France, as we were pretty much the only customers in there - on a Friday night in August.



Post a comment