Saturday in Menton
Posted on 2013/09/09 18:49:24 (September 2013).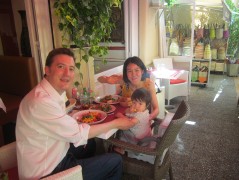 [Saturday 31st August 2013]
At the moment Erika typically wakes some time after 6 in the morning, and wants a bottle of milk fairly soon after waking up. I had assumed her body clock wouldn't adjust from English time, and that would translate to 7 here, but that did not turn out to be the case. As we didn't have a kettle in our hotel room this meant we had to go downstairs around 6:30 to get some hot water. That actually turned out to be a good thing, as we were treated to a rather nice sunrise, which we wouldn't have seen from our room as it was facing the wrong way, and didn't really have much of a view.

We had breakfast at the hotel, then after breakfast decided to go for our first swim. Menton's beaches, like much of the Cote d'Azur, are pebble rather than sand, but it was extremely convenient to have the beach right in front of the hotel as it was, as our hotel room then became our own private changing room and shower.

The water did actually feel slightly cool at first - probably a combination of the fact that it was morning, and the beach was relatively steep, but I had no qualms about diving right in. Erika seemed less convinced, and even with the big flotation aid we'd brought along didn't seem to like being in the water.

After showering and changing we went for a walk in the direction of Menton's old town. It's actually quite an attractive little town, and I think is often overlooked in favour of its flashier neighbours on the riviera. We had lunch outside at an Italian restaurant (we only ate one meal indoors the entire weekend) in one of the little squares, before heading up the hill to see the church and the cemetery, from where there were very nice views over the town and out along the coast.

We headed back to the hotel after that, stopping off for a quick look around the museum of prehistoric things, which was actually a bit naff. Spent most of the remainder of the hotel lounging around at the hotel - they had a sort of roof terrace with some sun loungers and a jaccuzzi which Chie made use of.

I popped out for a stroll by myself a little later on while Chie and Erika napped, and had an Aperol Spritz in a cafe - we were just a couple of miles from the Italian border after all.

For dinner we headed back in the direction of the old town, and in particular the old harbour. I'd done a bit of research on the web which suggested the best pizza place in Menton was to be found there (Al Vecchio Forno). They didn't have any tables available until much later on in the evening, so we decided instead to order takeaway and sit and eat in on the beach. This turned out to be much nicer anyway.



Post a comment