Sunday in Monaco
Posted on 2013/09/09 18:49:24 (September 2013).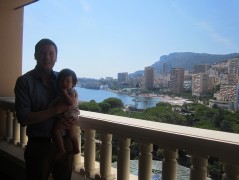 [Sunday 1st September 2013]
This was actually turning out to be quite a frugal holiday, particularly by Cote d'Azur standards. Menton is a pretty cheap place to stay, our hotel there (chosen by Chie) was clean, modern and well situated, but on the basic side of things. For our final night I'd been in charge of booking, and rather uncharacteristically even I had kept a lid on the spending, and found a special offer (a combination of the fact it was a Sunday night, and as of today it was September) at the Monte Carlo Bay, which meant we spent less than half what we did the last time we stayed in Monaco - and that was in March. We'd been keen to go back to the Bay anyway - whilst it's perhaps the least glamorous of the 4 SBM hotels in Monaco, and certainly the least expensive, it does have a really fantastic pool, most rooms have sea views, and the breakfasts are really good.

In keeping with the frugal theme, we rather unglamorously took a bus from Menton to Monaco. Some people arrive in superyachts, helicopters, or at the very least a Ferrari. We went by bus.

We arrived before midday, and our room wasn't ready yet, but they quite generously let us make use of the pool, and so without further ado we ditched our luggage and went for a swim. Erika seemed slightly less averse to the idea of joining us than she had when we swam in the sea yesterday, so we theorised the waves may have been the issue.

After that we had lunch in one of the hotel's restaurants, which was better than I expected it to be (I almost always find hotel restaurant food to be exceedingly bland) while Erika had a nap. It was also the only meal we ate indoors for our entire time on the Cote d'Azur - in fact here we'd initially planned to sit outside too, but with Erika asleep it was hard to find a spot with sufficient shade for her.

By the time we'd finished conveniently our room was ready, so we headed upstairs and got settled in. In fact we didn't leave the hotel for the whole afternoon - we spent a while sitting around in our room, enjoying the views from the balcony, and then later on went for another swim. By this point Erika was really relaxed in the water, and was happy to more or less "swim". Of course she saw no necessity to actually exert any effort and move her arms or legs, when we seemed quite prepared to just pull her along in the water. Nonetheless this was rather lovely.

We finally managed to prise ourselves away from the luxurious surrounds of the hotel around 6:30, to go for dinner. I'd again done a bit of research on where to go, and had settled on an Italian restaurant called Mozza, which looked pretty good, and, perhaps most importantly was an easy walk from the hotel, which is actually right out on the Eastern edge of Monaco. We'd learnt from past experience that Monaco can be a bit of a maze, and with all the different levels the streets are on, two places that look almost next door to each other on the map can have you wandering around for an eternity trying to get between.

This turned out to be an excellent choice - we sat out on the terrace and ordered their degustazioni antipastioni (or whatever it was called) which was a large array of small dishes for two people to share, most of which by happy coincidence were vegetarian. I particularly enjoyed the panzarotti (essentially an Italian take on fried bread) and the burrata. There was also a dish of tomatoes and basil sauce which was half way between a salad and a chilled soup. The pizza was pretty good too.

After dinner we walked back along the seafront to the hotel as it was getting dark, and Monaco was lighting up for the evening, which was all very atmospheric.

Chie very kindly offered to look after Erika for a bit so I could go out to the casino for a bit after that. I think Chie's at the point where she feels she's "done" Monaco now, and is quite happy to just come here to enjoy the very nice resort hotel we were staying in, but doesn't feel a strong urge to go and revisit the famous landmarks. I on the other hand really like keeping up little rituals and traditions, and on all three times we've been to Monaco now I've gone for a little flutter at the casino. On all three occasions I've left the casino with more money than I went in with. In fact tonight it was a particularly good haul - I turned 50 Euros into chips, and walked away with 130. A modest but nonetheless satisfying profit of 80 Euros.

Whilst mostly the casino seems to be frequented by American tourists these days, solely there to tick another item off their bucket list (and sadly most of them don't even seem to make an effort to dress up for the occasion), I was quite pleased that a man who I assumed to be a young millionaire came and sat next to me at the roulette table while I was playing. He was very well turned out, wearing a white dinner jacket, and accompanied by a young lady in a similarly glamorous looking evening dress. He changed about 500 euros into chips - and asked for pink ones - explaining to the croupier he was just there to teach his companion how to play. Whilst most people would probably find this display crass, I was quite entertained by it - it's always nice to know that the sorts of exaggerated stereotypes you see in films really do exist in real life.

I took some of my winnings over to Le Bar Americain at the Hotel de Paris, and tried out their Negroni. It was pretty unadventurous in terms of the ingredients, but I liked the atmosphere of the place - unlike the casino, just a stone's throw away, this place doesn't really seem to be on the tourist trail, and judging by the standard of dress here these were mostly locals.

I walked back to the hotel from there, keen not to further deplete my profits, and it turned out to actually be a much shorter walk than I expected. I think the trick in Monaco seems to be to wherever possible stick to the seafront which for obvious reasons minimises your chances of getting lost.



Post a comment