Monaco to London
Posted on 2013/09/09 18:50:20 (September 2013).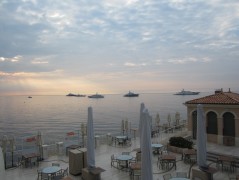 [Monday 2nd September 2013]
Erika woke us up around 6:30 this morning, as she had pretty much every morning on this trip.

Last night there had been a Prohibition themed party at "Jimmy'z" - the famous Monaco nightclub which was next to our hotel - and when we woke there seemed to still be people heading home. The whole thing had been an interesting insight into the people of Monaco - the night before we'd seen people looking like they were queueing in their cars for hours to get to the entrance - it hadn't occurred to any of them to just walk the last few hundred yards, presumably because of the importance of "making an entrance". Or maybe they were just extremely lazy. That plus the fact that all over Monaco we'd seen people dressed for this party - it seemed like everyone who lived there was going. Chie said it reminded her of a remote village when there's a barn dance or something. Plus it was interesting to see at least some people had stayed out until daylight the following morning after a Sunday night. They obviously didn't have awkward things like jobs to worry about.

We headed down to breakfast just before 8 (and I think we saw some attendees from the party, who hadn't yet been to sleep), and enjoyed the Monte Carlo Bay Hotel's excellent breakfast out on the terrace, looking out to sea. Hotel breakfasts can be a bit perfunctory, but there, given the setting, it made for quite an event in itself, and a pleasing end to our time in the Cote d'Azur.

The rest of the day was all a bit dull by comparison, if I'm honest. We got a taxi to the station in Monte Carlo, then the TGV from there which would, with a change of carriages at Nice, take us all the way back to Paris.

Return journeys are never as pleasant as outbound ones, but for this one in particular, owing to having made a mistake when booking the seats, and the fact the train ended up over an hour delayed, it really wasn't as relaxing as it could have been. Somehow I'd managed to book Chie and I in two different carriages. I initially managed to get the lady who was meant to be sitting next to Chie to swap - it was after all exactly the same seat in the next carriage, so it didn't seem that unreasonable a request - but later on she came and asked for her seat back, because she believed she'd booked in the quiet carriage (she actually hadn't - both carriages were "Zap" as they call it, which are the non-quiet carriages) and there were people talking near her seat. I thought that was a bit mean of her to split us up like that to be honest, especially as we had a baby with us, but didn't feel like I could say no. In the interim someone had taken my seat, and so I stood sulkily for a while, really annoyed at myself for the stupid mistake, and also frustrated that we were so late, and would probably miss our connection.

When we got to Paris we had a mad dash to try and catch our Eurostar - apparently we checked in one minute before they closed, I think it was about 10 minutes before the train was due to depart. Fortunately passport control and security checks weren't busy so we were able to whizz straight through and get on the train.

I actually cheered up significantly after that as a result of the elation of having caught the train against the odds. So the final leg of the journey was in fact quite a pleasant one.



Post a comment