Arriving in Herefordshire
Posted on 2013/09/09 19:31:41 (September 2013).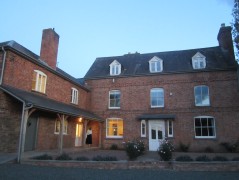 [Friday 6th September 2013]
Picked up a hire car in this morning, and headed out of London in the direction of Herefordshire where we'd rented a house for the weekend, for Erika's birthday. We made a stop en route at the Waitrose in Cirencester to do the shopping for the party and have a quick spot of lunch, and arrived at the house a little before 4:30. We were a little late to meet the owner, so had been rushing for the last bit of the journey, but nonetheless the last few miles driving past orchards full of apples - probably just a couple of weeks away from harvest - were very picturesque.

The house was just huge - a farmhouse which had been added to over the years, with 6 bedrooms, a huge open plan kitchen / dining room (with a table big enough to seat 20!) and three different sitting rooms spread out over the ground floor.

Mum and Keith were the first to arrive, not long after we did, and the remainder of our overnight guests didn't get there until much later, thanks to seemingly every road in the southern half of the country having heavy traffic. Dad and Janie made it for about 8:30, whilst Adrian, Liz and the kids ended up arriving some time after 9 I think.

I made a lasagne for dinner tonight for the seven of us there in time for dinner, which seemed to go down rather well.

As Mum commented at the time after the kids had arrived, despite the late hour there was a lovely buzz as they excitedly ran round the house exploring. It was also the first time to have Mum, Dad, and all their grandchildren (plus of course me and Adrian) under one roof, which made it quite a special occasion even the day before the main event.



Post a comment