Erika's Birthday Party
Posted on 2013/09/09 19:31:41 (September 2013).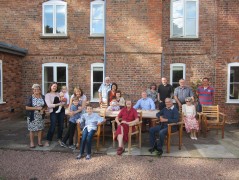 [Saturday 7th September 2013]
Erika woke us up some time after 5 this morning, as she's in the habit of doing recently, and we went downstairs to make her some milk. I didn't really manage to get back to sleep after that, so a bit later on took Erika down and fed her breakfast, so at least Chie could get a bit more sleep.

After a somewhat drawn out breakfast as people gradually surfaced, we popped out briefly to the nearby farmshop for some final supplies, and then the remainder of the morning then passed in a flurry of getting things ready for the party. I concentrated on the savoury things - in particular a couple of large plates of sandwiches, while Chie put the finishing touches to Erika's birthday cake. Most of the extra party guests arrived some time around midday - Robin, Vera, Louise and Iain, with the final three (Bec, Dave and Jessica) arriving a bit later as they'd been detained by a the hospital appointment in the morning.

I started popping Champagne corks around 1pm, and we sat down to start eating not long after that. The birthday girl was actually asleep for this bit though! Once the party was properly underway she woke up and made her entrance - only a year old and she already seems to have grasped the concept of being fashionably late.

Of course we ended up with far more food than we could ever possibly eat - the two large platters of sushi were particularly over the top - but we managed to work our way through a substantial chunk of the leftovers throughout the remainder of the weekend, so there wasn't too much waste.

By 2:30 we had moved onto birthday cake and desserts - including Louise's famous pavlova. Holding Erika while everybody sang happy birthday to her and she (well Katie really) blew out the candles was a particularly lovely moment, and really drove home the fact that we have actually created a human being.

It was also really nice to see Erika playing with Jessica, there's only about four or five months between them, and I hope there will be plenty more opportunities like this for them to play together.

At a quarter to 4 we headed into one of the sitting rooms in the house, so Erika could open her birthday presents.

Sadly some of the party guests had to leave after that - Bec, Dave and Jessica as well as Dad and Janie. All good things come to an end though, and before they headed off we did at least get a chance for a big group photo out the back of the house, and I'm really pleased with the results - I can't think of any other photo which has so many of my family members in. It really was quite a momentous occasion.

A little later on in the afternoon a few of us went for a stroll around the local area (the kids however could not be persuaded to come with us even with bribery!). Monnington is a tiny little village, more of a hamlet really, but does have a very attractive little church, and a grand residence in the form of Monnington Court, with an impressive yew lined avenue leading up to it.

To our pleasant surprise Vera and Robin decided to stay on for the night, as there was a free room now with Dad and Janie only having stayed the one night, so we still had a full house of 12 even after our daytime party guests had gone home. Adrian popped out and bought some pasta for the kids from the farmshop for dinner, and I managed to cobble together a meal including an extra lasagne I'd made for the previous evening for some of the others.

I didn't stay up much past 10, having been up since not long after 5, and being quite tired with all the preparations for the party. Still though an absolutely lovely day, and all the preparations and planning were definitely worth it!



Comment 1
Quelle magnifique photo de famille, excellente idée de profiter de cet anniversaire pour tous vous réunir.

Gros bisous à votre adorable Erika

Posted by Dominique at 2013/09/16 20:16:15.
Post a comment